Three women, all writers; they share similarities, including deafness, but they are also remarkable in their differences. 
Cristina Hartmann from Pittsburgh, Pa., former Minnesotan Jenna Fischtrom Beacom from Columbus, Ohio, and Sara Stallard from Campbell, Calif., are among five individuals staying at the Anderson Center this month as part of the Deaf Artists Residency Program. 
They and two other Deaf artists in residence -- New York visual artist Youmee Lee and Texas screenwriter Charlie Ainsworth -- will hold a free, public capstone event and discussion 7-9 p.m. Saturday, June 26, in the Tower View Barn.  
Cristina Hartmann 
A graduate of Cornell University and the University of Pennsylvania Law School and a published writer, Hartmann was inspired to write a short story in reaction to the 2021 Oscar-nominated short film "Feeling Through."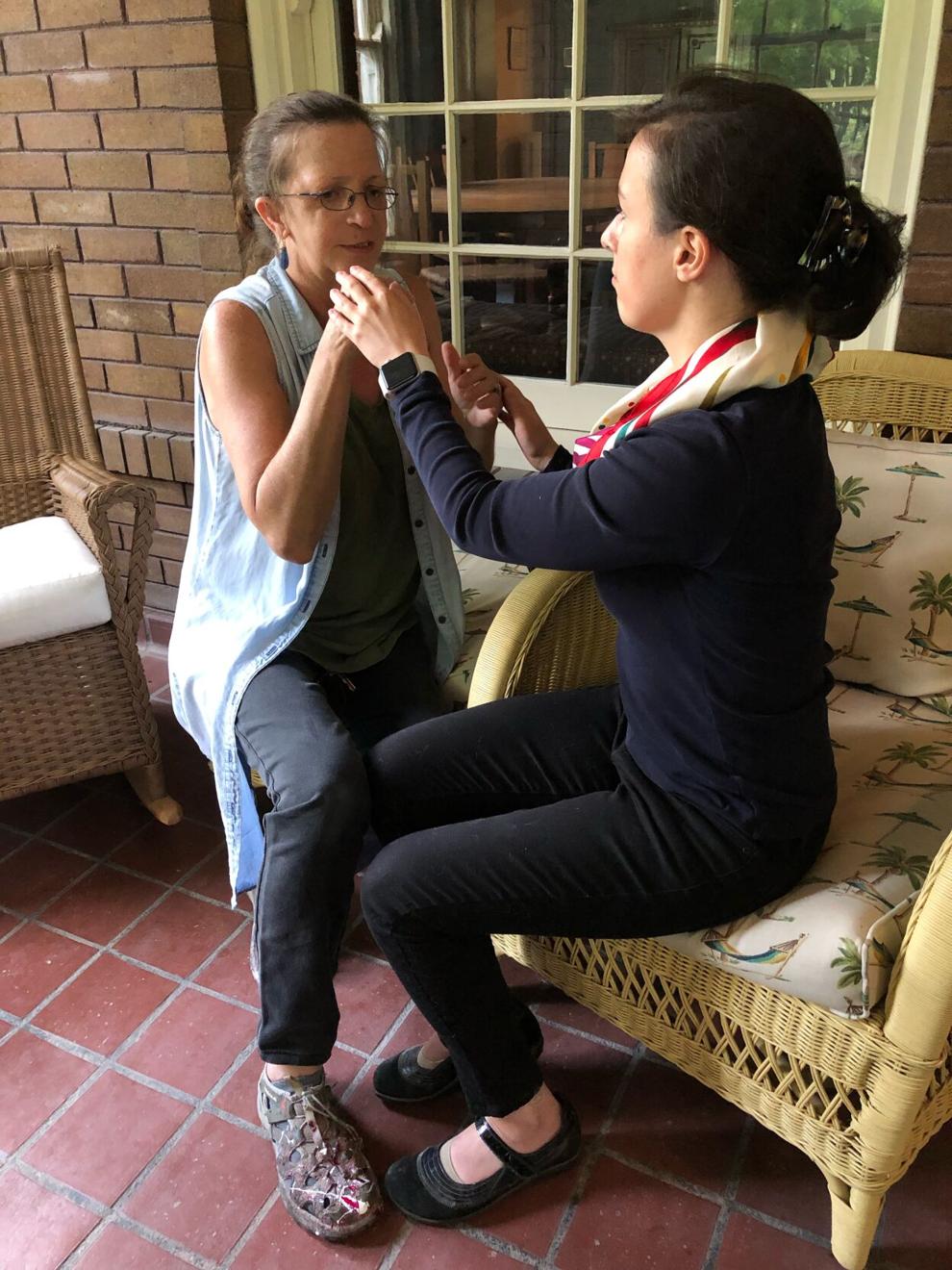 Deaf-blind, like one of the characters in that film, she brings a different perspective to the concept of "helping someone in need." 
After reading the script, she explained, "I realized it is 100 percent" based on the perceptions of the hearing-sighted person. "They think they know how to help. There's no notion" of how the Deaf-blind person views the situation. "It needed both perspectives." 
Hartmann's story about a sighted bystander trying to help a Deaf-blind woman shows a different viewpoint. "Sometimes help is necessary. Other times the helper assumes they know what the person wants," she said, but that assumption may be wrong. 
The story was inspired by her experiences. Hartmann recalled an incident when she went out to meet a friend and a man approached her to help her cross the street without finding out whether she needed assistance.  
He followed her and tried to tell her how to proceed. "It made me very uncomfortable," she said, because his actions implied she was helpless – which she is not. 
Hartmann's story encourages people not to make assumptions. There will be opportunities to be helpful. However, she said, "The trick is to establish communication with the person. Ask what their needs are. Make sure you understand what they are trying to do." 
Hartmann's month at Tower View is a rare opportunity. "It is amazing here," she said. She and the other Deaf artists are able to exchange ideas and discuss issues they face using Pro-Tactile American Sign Language. 
Tactile ASL has been around for many years; Annie Sullivan used it to communicate with Helen Keller by signing words onto the Deaf-blind girl's palms.  
PTASL is an evolving version that uses other forms of touch, such as movement on the arm or facial expressions, to convey additional information including how a person feels or their reaction to something. "It has its own language," Hartmann said.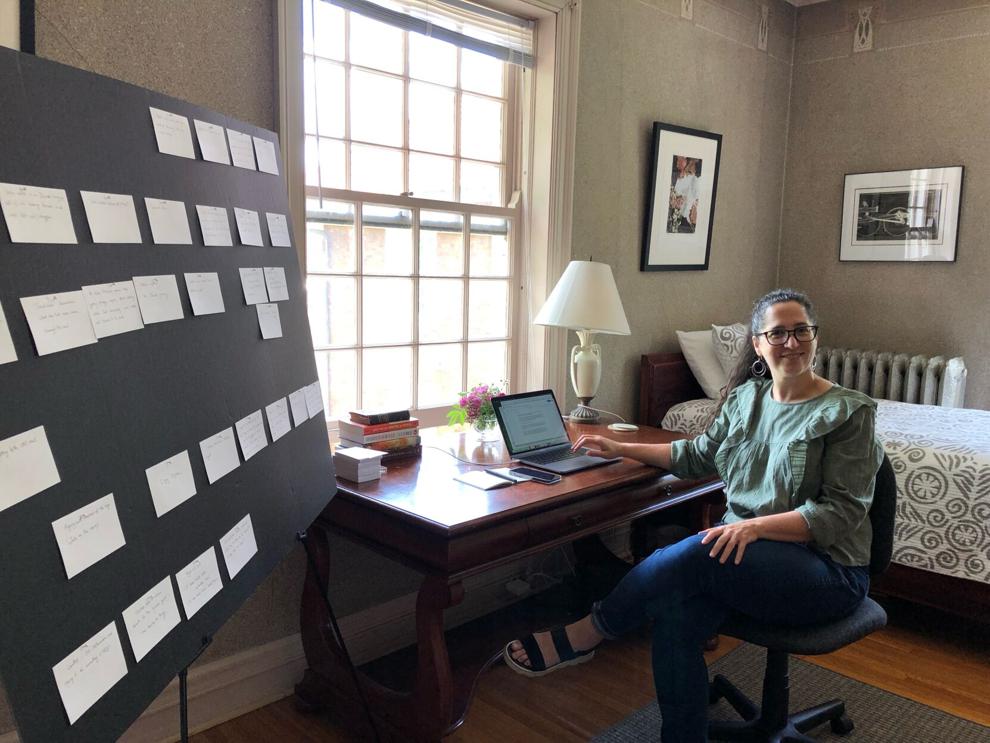 Jenna Fischtrom Beacom 
Beacom's experiences losing her hearing as a young woman inspired her to write a young adult novel, "Signs and Portents." One of the issues as she navigated her situation was a lack of role models that might have helped her understand her options and anticipate what life was going to be like. 
"I started to lose my hearing at 13," Beacom explained. Growing up in Minneapolis, she was deaf in one ear but the other was OK. One day she was at canoe camp "Up North" and tried to phone her parents before going out on the water. Because she could not hear any response, she thought the phone was broken. It was not. 
The loss of hearing lasted only a couple of days, but it happened again a few months later. After about five years of fluctuation, she became completely deaf at 18. 
Beacom looked for role models in the media, but found none. Her only encounter was with a friend's older uncle, who had multiple disabilities. "I did not feel akin to him," she said. 
In 1971 TV's "Sesame Street" introduced Linda Bove, a Deaf character who communicated only with sign language. She was smart and capable, Beacom said, but she also was "very 'other'. The impression I got was that it was very nice of (the other characters) to be nice to her." 
Without knowing or seeing other Deaf people, "It was hard for me to imagine where my life would go," Beacom said. "I did not want to be the Deaf person on the outskirts of hearing people's lives." 
Her book aims to help others facing a similar situation. 
"I wish I could go back in time and be able to tell that extremely confused (teenager) about the positive options, the great things about the Deaf culture, all the amazing things I could do as a Deaf person," Beacom said. Instead, the book may be just what some other young person needs. 
It would be very helpful, she believes, if young Deaf people could see themselves in the media. "Deaf representation is so important. It gives pathways" for them, and at the same time helps hearing people learn about Deafness. Inaccurate representation gives people wrong ideas, and that directly affects Deaf people. 
Beacom also is working on a #Deafinmedia website, which she hopes will be live by the end of this month.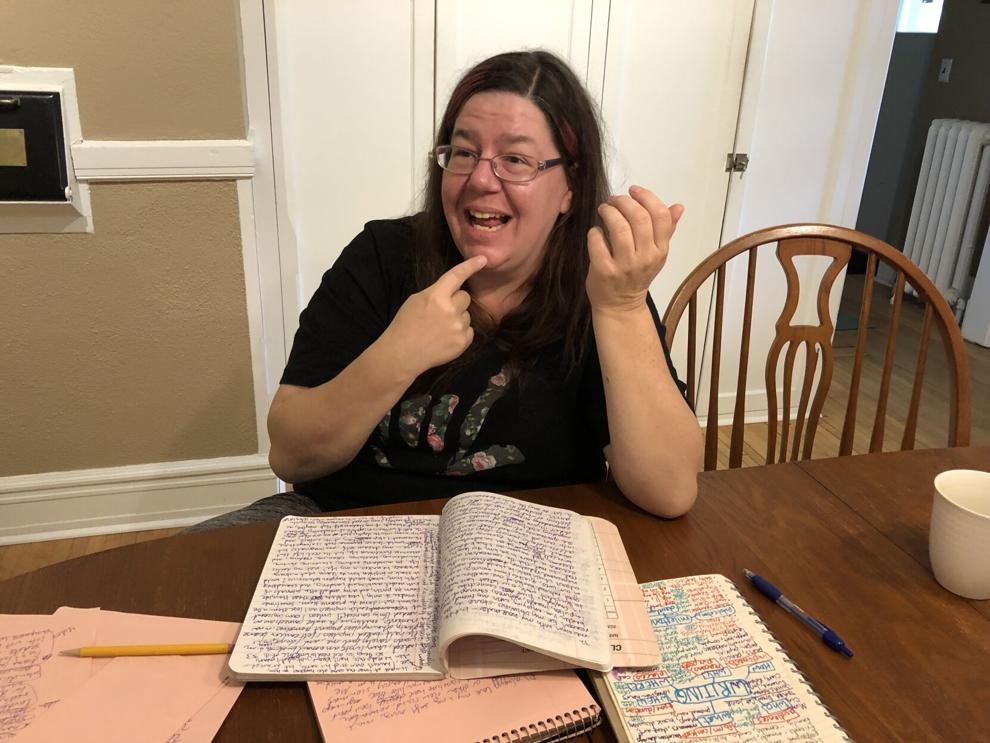 Sara Stallard 
From the time Stallard was a little girl, writing has played an important role in her life. "It was my connection to everything," she said through an ASL interpreter.  
Stallard, who has been Deaf since birth, is fluent both in ASL and in English. One of her current creative nonfiction projects is a memoir, "Cacoethes Scribendi: A Deaf Writer Growing Up." 
She also is working on a series of cat stories written in ASL English, a dialect that resembles conversational use of ASL. When Deaf people use American Sign Language, they are not necessarily spelling English words or duplicating the English language. ASL is its own language.  
"Deaf people use English in our own way. It's English but is influenced by the dialect of signing," she wrote. Both languages are incorporated in self-expression, "with one as base and other idea same flavor," she explained using ASL English. 
Stallard, who has been exploring how ASL influences her use of English for many years, wrote her informal cat stories in ASL English.  
"They were really for my friends" who also have both languages, she explained, but they are becoming something anyone can study to become more familiar with ASL English. 
After 10 years teaching English to Deaf students, Stallard also has developed strong feelings about the importance of parents teaching those young students to read and write. Having story time with their children also creates an important connection. 
"Deaf people who grow up with English and ASL can be very creative and expressive," she said through the interpreter.  
Like the other Deaf residents, Stallard expressed her appreciation for the opportunity to be with people who have similar values and perspectives.
"I don't want to leave here," she conveyed. "Too much fun."