1. Where to pick apples 
Minnesota and Wisconsin do not have a shortage of places to pick and buy apples, or a host of apple products. Here are some of the local orchards open for the season: 
Happy Earth Orchard
Where: W4616 County Road G, Ellsworth

Hours: noon to 5 p.m. on Friday, 10 a.m. to 6 p.m. on Saturday and Sunday

Offerings: U-pick apples, hayrides, pumpkins, corn mazes, hot apple cider and more.

More info: thehappyearthorchard.com or 715-201-9177
Driftless Orchard
Where: N3050 US Hwy 63, Hager City

Hours: 10 a.m. to 6 p.m. on Fridays and Saturdays for u-pick apples, 10 a.m. to 6 p.m. daily for the self-serve farm

Offerings: U-pick apples, pumpkins, squash, pre-picked apples and more.

More info: driftlessorchard.com or 651-319-3813
Whistling Well Farm 
Where: 8973 St Croix Trail S., Hastings

Hours: 9 a.m. to 6 p.m. daily

Offerings: U-pick apples, pumpkins, mums, a country store and more.

More info: whistlingwellfarm.com or 651-998-0301
Croix Farm Orchard 
Where: 12971 St. Croix Trail S., Hastings

Hours: 10 a.m. to 6 p.m. Tuesday through Thursday, 9 a.m. to 5 p.m. Friday through Sunday. 

Offerings: U-pick apples, pears, pumpkins, gourds, orchard saleroom, corn maze and more. 

More info: croixfarm.com or 651-437-7126
Afton Apple 
Where: 14421 90th Street S., Hastings

Hours: 10 a.m. to 6 p.m. every day.

Offerings: U-pick apples, pumpkins, corn maze and more. Apple Festival weekends will be the first three weekends in October. The festival will include magic shows, music, yard games and more.

More info: aftonapple.com or 651-436-8385
Offerings and activities at local orchards may change due to COVID-19. 
2. Drought impact on u-pick apples 
This year fewer orchards are open for u-pick apples. Those that are may have fewer apples to choose from. This is largely due to the hard growing season. 
One example of a local orchard that was impacted by the weather is Twin Oaks in Wanamingo. At the end of August one of the owners wrote on the orchard's website, "Apple harvest has begun, but it is on a very limited scale due to a difficult growing season. … Blossoms were very sparse on most varieties. I think the trouble actually began last October, when we had temperatures down to 10 degrees Fahrenheit, before the trees had a chance to harden for winter. … When May came, we had temps in the 90's, which I'm guessing 'supercharged' a particular type of bug that is challenging for growers using only organic input, and as a result lots of apples were damaged or ruined. So, the weather is what it is, and I'll be grateful if we end up with 1/4 of last year's harvest."
Maple Leaf Orchard in Spring Valley will not hold its usual u-pick apple season. Its website explains, "Normally an apple tree with a high yield will naturally drop a few extra apples, but the excessive heat and drought stressed all the apple trees, so most of them dropped a majority of their apples to alleviate the stress. We have 30% of our normal apple crop."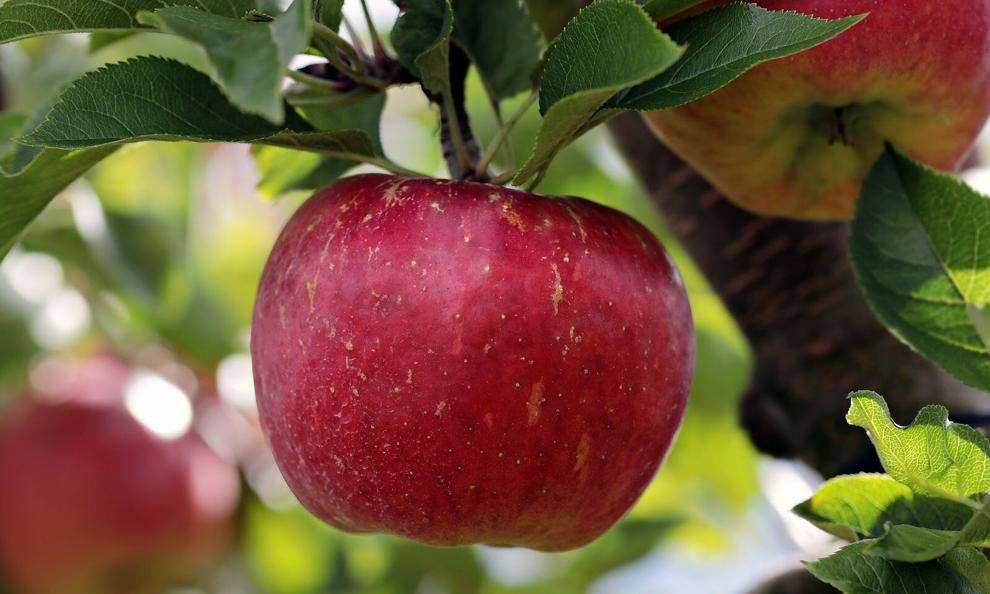 3. State fruit
Minnesota adopted the honeycrisp apple as the state fruit in 2006. The Minnesota government explains, "The apple was produced from a 1960 cross of Macoun and Honeygold apples, as part of the University of Minnesota apple breeding program to develop a winter-hardy tree with high quality fruit. The original seedling was planted in 1962. Today, millions of honeycrisp apple trees are grown across the U.S. and Canada and as far away as South Africa and New Zealand."
While Wisconsin is also home to numerous apple orchards, its state fruit is the cranberry. Wisconsin.gov explains, "Wisconsin leads the nation in cranberry production, accounting for over half of the nation's output. Cranberries are grown in 20 of Wisconsin's 72 counties, primarily in the central part of the state."
4. Creating new apple varieties in Minnesota
The University of Minnesota has one of the oldest fruit breeding programs in North America. The school's extension program says of this history, "In the early 1900s, parent trees were collected from the wild as well as from Midwest and New England growers. Early researchers produced thousands of fruit seedlings from those parent trees.
"As with research then and now, hard work combined with chance led to major breakthroughs. From the first cross and selection of parents, it can take from 20 to 30 years for an apple to come to market." 
Popular apple varieties from the university include SweeTango, First Kiss, Triumph, Haralson and of course, the Honeycrisp. 
5. Fast apple fact 
According to the Minnesota Department of Agriculture:
There are 117 Minnesota grown apple orchards. 

The state grows 20 million pounds of apples each year. 

An apple's color doesn't determine how ripe it is. Minnesota Grown instructs, "Pick firm, crisp apples by lifting up and twisting the fruit. Keeping the stem attached to any picked fruit will help keep it fresh and increase it's storage life."

"Apple season in Minnesota runs from August to early-November. This time of year is when fruit is at its peak. If you're hoping to stretch the fall harvest, store your apples in a cool dark place. This will keep them crisp and juicy well into the winter season. The crisper drawer of your refrigerator is a great place to keep apples. They love cold and moist air. To keep moisture levels up, place a damp washcloth or damp towel inside the crisper drawer once a week."