ROCHESTER -- The first meeting between the two teams went to a fifth set. In the rematch, Cannon Falls needed four to win. Yet, every set could have gone to either team.
Knowing it would be a battle every set, the Tigers needed to play error free against the No. 1-seeded Bombers. Yet, Tiger head coach Kirk Thornton said the players were confident they could pull out the upset.
"We felt like we matched up well against them," Thornton said. "We weren't thinking they were the No. 1 seed and we were No. 4. We felt good. We felt we could hang with them, and I actually thought we were the better team. That's the mindset I wanted the girls to be in."
The Bombers prevailed 25-20, 25-23, 25-20 in three consecutive sets to win a Section 1AA semifinal 3-1 Thursday evening at the Mayo Civic Center after the Tigers won the first set 26-24.
Disappointed after the loss, the Tigers (21-11) remained proud of what they were able to accomplish.
"We started off as the underdogs," Tigers senior Ava Brunn said. "Nobody thought we could get 10 wins in a season. We graduated our whole team last year. Nobody thought we had anything. The fact we're the second team in Lake City history to get to 20 wins in a season, that's huge."
"I think we did (prove them wrong), losing 10 seniors last year everyone thought, 'Oh, they're not going to be good. They're going to be a team we can beat 3-0 every time,'" Tigers senior Natalie Bremer added. "I think we showed everybody that we have skills here that were unheard of for a long time."
Thornton said the senior foursome of Bremer, Brunn, Lilly Meincke and Mya Shones deserve credit for keeping the Tigers going and leading them to a section semifinal.
"That was the nucleus of this team, and they kept it together for us," Thornton said. "They are four girls that get it. They get what team sports are all about. They are fun to be around, they come to practice hard. I wish I could have them every year. On top of that, they're pretty darn athletic."
When asked how she felt being one of the senior leaders, Bremer said, "It feels like family to me." She and Brunn led a team in which every player had to contribute to be successful.
The Tigers scraped out a win in the first set after the Bombers made a pair of uncharacteristic serving errors late in the set.
Bomber Madison Burr started swinging hard in the second set, and the Tigers fell behind 19-15 as the Bombers sustained the lead the rest of the second set.
The third set played much like the first. Each team traded points and were tied 7-7, 11-11, 15-15, then 22-22 before the Bombers finally got two points to close out the third set. However, the Tigers had a 22-18 lead. The Tigers couldn't help but think ahead to what kind of pressure they could put on the Bombers if they went up 2-1.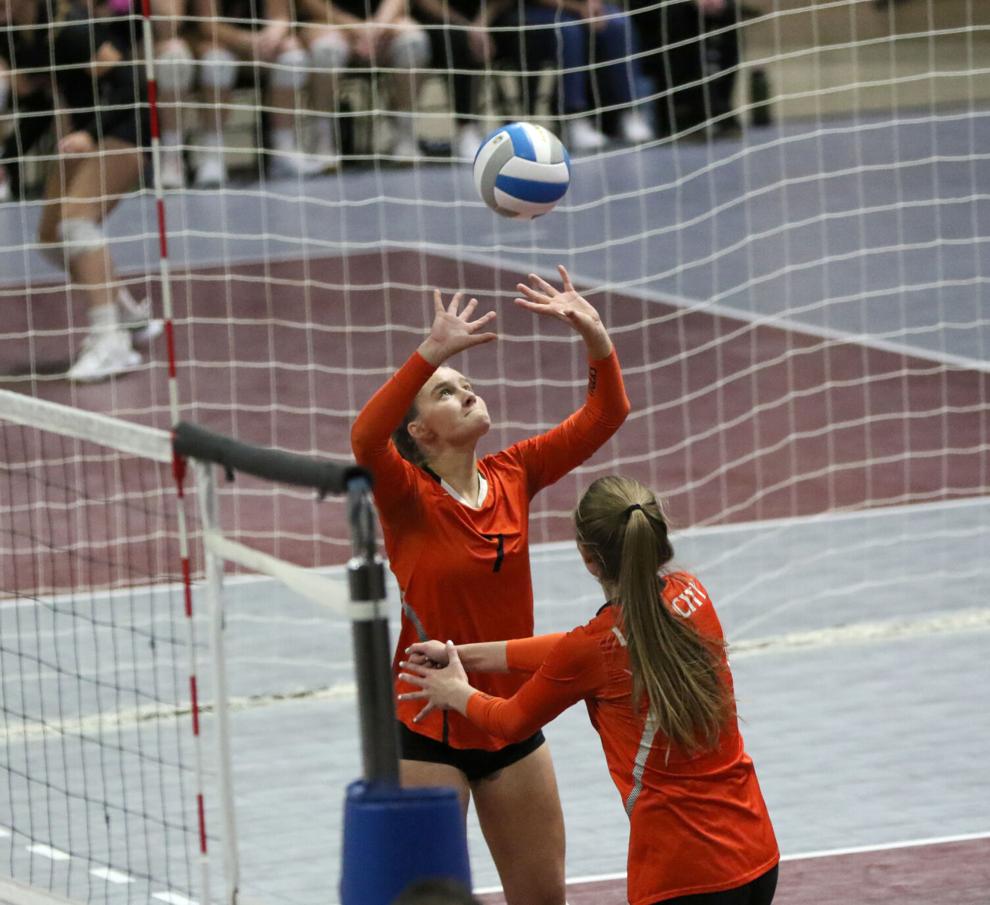 "We were up and thought we could go ahead 2-1, and put them in a bad position," Bremer said. "Couldn't handle their comeback."
Again in the fourth set, the Tigers and Bombers were tied several times. The Bombers then went up 23-19 on the strength of Burr's kills before getting the final two points to secure the semifinal victory.
"I was ready to take it in four," Brunn said. "I was ready for us to do what they just did and win the last two. We had it, we could have closed it out."
Bremer led the Tigers with 15 kills, 12 digs, three blocks and two aces. Brunn had 12 kills and 10 digs. Lilly Meincke tallied eight kills and five blocks, while Mya Shones added five kills and three blocks. Mahli Benjamin had 10 digs. Emma Narum and Ella Matzke combined for 33 assists.