In the moments leading up to the state meet, Red Wing freshman Nora Hanson ran from the starting blocks with teammate, sophomore Annika Johnson. Before turning and heading back with less than 5 minutes before race time, Hanson put her hands on the shoulders of Johnson and reminded her about the importance of the day.
"This is our last race, and we wanted to give it our all," she said when asked what she shared with Johnson pre-race. "Show everyone that came to watch us how appreciative we are for them to be here and how excited to be here."
The two competed together in the Class AA state meet on Saturday at the campus of St. Olaf in Northfield. It was Hanson's second state appearance and Johnson's first. Although Johnson had made the trip to state in the past as a spectator.
"It was a lot of fun to actually experience it," Johnson said of being able to run in the event. "I expected it to be a challenge for me. It was a good way for me to find people to pick up and compete with. There was a lot of energy, good energy in the air."
Johnson seemed to let the sprinters get out early before slowly working her way through the pack. She finished in 90th place with a time of 20:51.11.
Hanson, yet again, proved what a talented runner she's becoming. She pushed hard to finish in less than 19 minutes. Hanson finished the 5,000-meter race in 13th place with a time of 19:07.22.
Coming off back-to-back races with times of 18:49.33 at the Big 9 conference championships and 18:58.81 at the Section 1AA meet, she hoped to continue that pace at state.
"I had higher expectations of myself," she said. Last year Hanson said she was a bit nervous, unsure what to expect of herself and of the course. She displayed an abundance of certainty she would run well this year. "I knew I could place higher up there if I push myself. I got what I was ranked, I think. It was awesome."
Not only was Hanson able to run sub-19, she beat a prominent and talented runner in Natasha Sortland of Zumbrota-Mazeppa to win the section championship. That win gave a boost ahead of the state meet.
"I was really happy to have beaten Natasha because she's been a great competitor against me. I really like how we push each other," Hanson said. "I just want to keep getting better and better."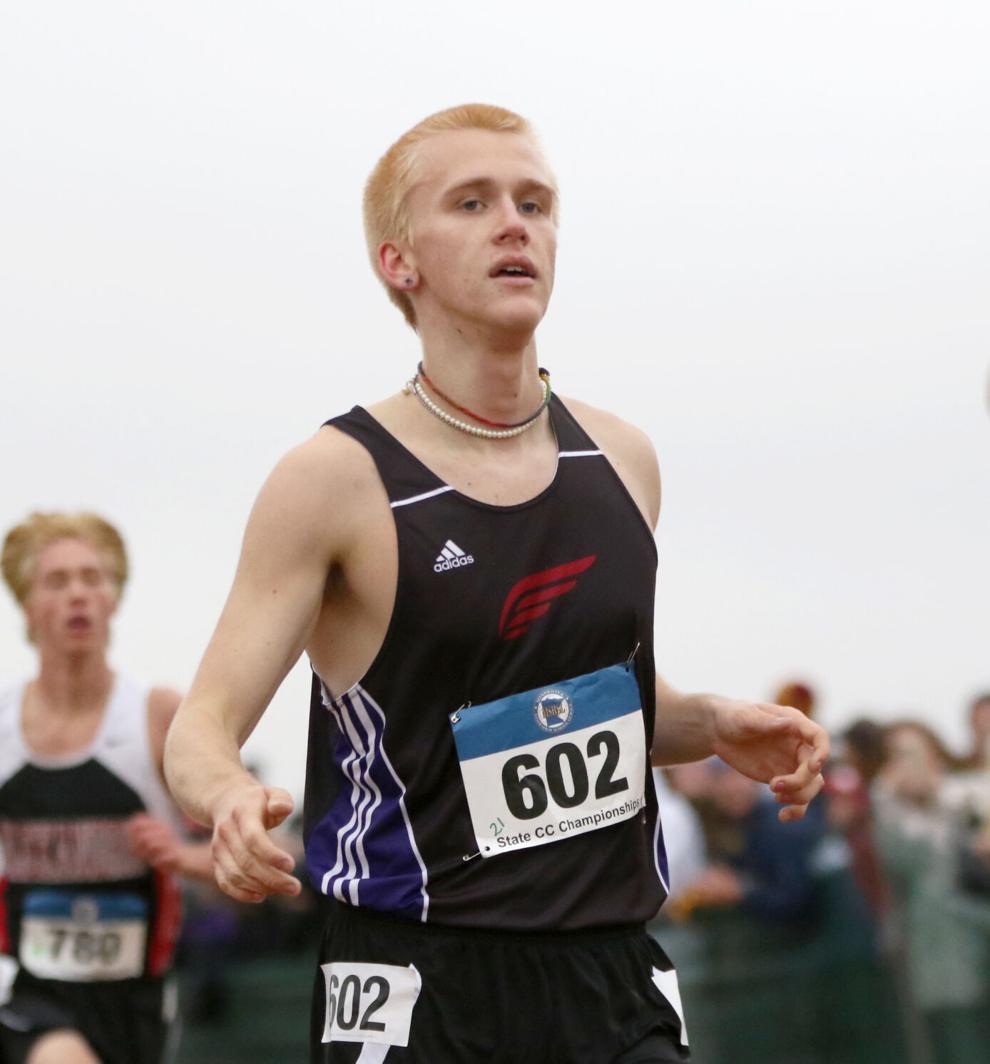 Anything to break 17
Some runners find a family member, some find a teammate. Other runners take time to catch their breath. Red Wing's Aaron Freier kept running through the finish area into the crowd.
Anything to make sure his final cross country race was a good one.
The Red Wing senior broke his previous best time by 8 seconds to finish the Class AA boys race in 16:54.98.
"It's funny, the amount of times I've seen 16 minutes come and go on the clock on the last stretch this year has been way too many times to count," Freier said. "To finally get to the finish line before it turns over to 17 minutes is the conclusion I've been waiting for."
He had been trying to put together a race in which he would finish ahead of the 17-minute mark all season. Coming so close toward the end of last year, Freier felt like it was attainable this season.
He felt good to start the season, which was also at St. Olaf, in a high school showcase invite. He ran well and finished with a time of 17:18.8.
After that first race, Freier just didn't feel right.
"I felt really good heading into this season and did some offseason work," he said. "I got to the season and had a good first race here then had a string of races where I was slogging through them and not feeling good. My first meet here was good. Our home meet, I ran really well a month later. Then it took me another month until the section meet. I was having a good race every three weeks."
Freier rebounded from a race in New Prague in which he ran it in 18:20.1 toward the end of September to come back and win Red Wing's home meet three days later in 17:03. Another month, and Freier again was feeling good at the section meet. He finished third, above his pre-race ranking of ninth and found that everything was beginning to come together for him.
He said he was struggling some with confidence and mentally wasn't feeling his best during most of the races. Having a good section race set him for the state meet where by the first mile, he could tell he had a good pace.
Freier started in the middle of the pack and gradually worked his way from about 55th near the midpoint to surge ahead before hitting the two-mile mark. Freier finished 44th. It was a 12 place improvement from his 56th-place finish a year ago at the state meet.
Getting a PR and seeing a 16 as he continued to sprint across the finish line and past other runners gave him a sense of relief.
"To finally do it and get an 8-second PR is really satisfying," he said.