Newly planted outside the doors leading to Red Wing's pool at Twin Bluff Middle School is a maple tree. Inside the pool, are pictures of past events. There's a space reserved for a picture board as well.
The Red Wing girls' swim and dive team have kept many items through the years to commemorate past results, accomplishments and even some artwork. Usually, these are posted in the pool office. Not the ones of Sammy Kriese. Those are on the walls of the pool.
They've placed these this season to honor her. The beloved swimmer and 2021 graduate died in a head-on crash involving a garbage truck on June 17, 2021.
The initial shock took a while to wear off and unbearable at times.
"It's been waves," said head coach Mikayla Beuch about the emotions of coming back. "That first summer practice I knew I had to go back into the pool and coach. They had to get back into the pool and swim over the summer. It was very scary, but we took it easy. We didn't want to push anyone along. We got it off our chest. First day of the season, I was dreading it. I'm sure they all were too, but we got through it. We're trying to keep these brave faces on, it's tough"
Then the season began. There have been plenty of hard days, but that first meet, first bus ride, was not one of excitement. Rather it was somber, even painful to have to focus on swimming in a meet when all there is to think about is how much they could have used Kriese's enthusiasm to lift everyone up.
"It was the hardest thing," said senior Teegan Beyers. "I basically just cried the whole way on the bus because it was my first meet ever not swimming with her. It honestly just sucks. You have that gut feeling that they're just not there. It's not like she can watch the meet. She's just not there. It's seriously awful not being able to swim with her."
Kriese was incredible in helping her teammates through a strange 2020 season in which the team, like the rest of the swim and dive teams in the state, had to swim virtual meets.
More often than some think, the swimmers thrive on hearing the support from their teammates, friends, family in the stands and coaches as well as having the competition in the pool surrounding you. Sophomore Natalie Hanson said Kriese was right there hollering during every race of their virtual meets, supporting everyone.
"I always wanted to be where (Kriese) was at. I always wanted to swim at her level," Hanson said.
This season everyone has returned. Fans are back, and so is the competition. Many teams have said a remembrance, or given gifts, to the Wingers.
Not that the team wants to move on from Kriese, but to have an overwhelming sadness for their friend, then jump in the pool continues to be one of the most difficult aspects of the season.
Beyers admitted there's been plenty of bad days of practice or off meets. They remember what Kriese would say on those days. She seemed to have a way of energizing them, giving them the confidence they needed.
Sophomore Emma Hoppman said having teammates talk each other through each meet, having that support system be poolside to calm the emotions has been beneficial.
"Everything I do, I know (Kriese) would be proud of me, she would be happy for me," Beyers said. "I use that as motivation at meets."
"Going forward, it's kind of less sad about what happened and trying to think of her energy and how she would be telling us to swim," Hoppman added. "How she would be cheering for us. Just trying to change the grief into, 'OK we got this'."
Some of what Kriese did was drive Hoppman to practice or meets, crank the volume up and start singing the entire way to the pool. Complimenting Hanson every day and showing Hanson what a good swimmer she can be. She'd tell everyone "breaststroke is the best stroke."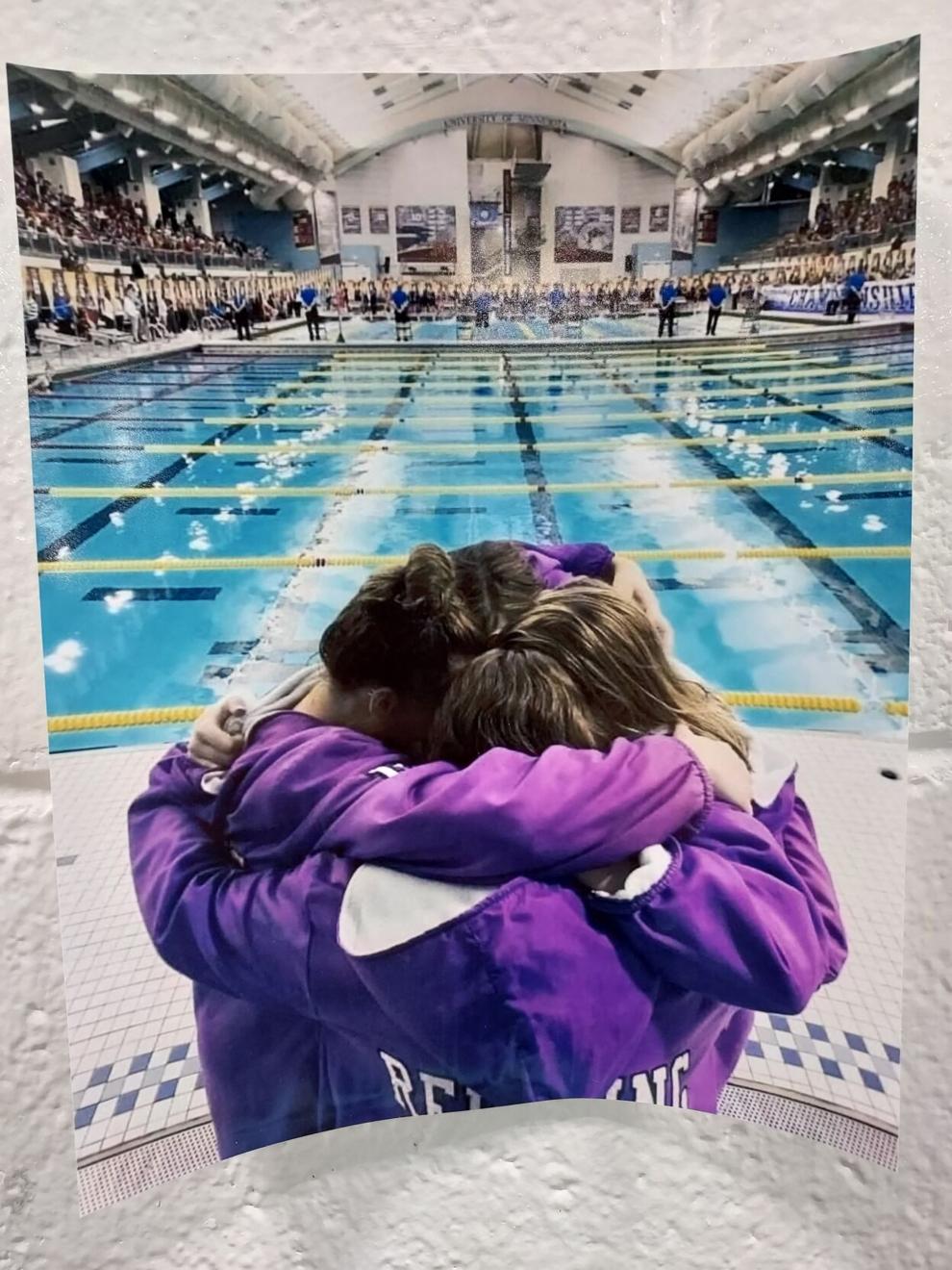 Kriese, along with Grace O'Brien, Cecelia DeJong and Beyers often said they were the dream team when referring to their record-breaking relays together. Even yelling "chicken pot pie" before those relay races.
"It's just a swimming thing," Beyers said, getting a chuckle out of everyone.
Plenty on the team recognizes each other's pain and has leaned on each other. They keep pushing on, just as Kriese would want them to do.
Each girl on the team has taken a little bit of Kriese that they hold valuable and applied it to each meet, each practice. They don't want to attempt to recreate what Kriese did. Instead, they are lifting each other up, determined to not let her down.
From this has come a perfect support group. These are the right people to be together on tough days.
"I'm very proud of the entire team for having to go through something like this at such a young age. There's so many changes in their lives. To add this on top, it is really tough to watch as a coach," Beuch said. "I do hold it together a lot and it's because of these girls. Otherwise I would be a mess. Back in the summer, they were the ones that held me together, now they are the ones holding me together. I need them to keep being strong so I can be strong. They have way more strength than I could have had at that age."
The feeling is mutual.
"They have been there for us. They have shown up for us. They've brought us through what we needed to go through and where we needed to go," Hanson said. "It'd be a lot different with different coaches. They are so passionate about the team and making us better people and making us better swimmers."
Much like the tree near the pool entrance, Kriese had her roots spread wide. She motivated everyone to be better athletes and better people. The pictures of Kriese may never leave the pool. If they did, the team knows their inspiring leader is with them always.