The Tigers have a lot of players they can turn on offense. Quarterback Justin Wohlers has deservedly gotten most of the attention, but the Tigers showed they've got plenty of talent around him.
Newly ranked No. 1 in Class 3A, the Lake City football team backed up the distinction in a 40-7 homecoming victory Friday over Zumbrota-Mazeppa.
Last week, the Tigers secured its first winning season since 2012. The Tigers haven't been undefeated this late in the season in over 15 years.
Lake City head coach Trevor Narum said he doesn't want to get caught up in the rankings just yet, even if the Tigers are No. 1.
"Really what does it mean? I just don't know how anyone knows who the best team in the state is right now," Narum said. "To me, the only time it matters to be No. 1 is at the end of the year."
He added that there are plenty of good teams in Class 3A the Tigers haven't faced. However, they've been better than every team so far this season. Plus no one can deny this iteration of the Tigers is loaded with talent.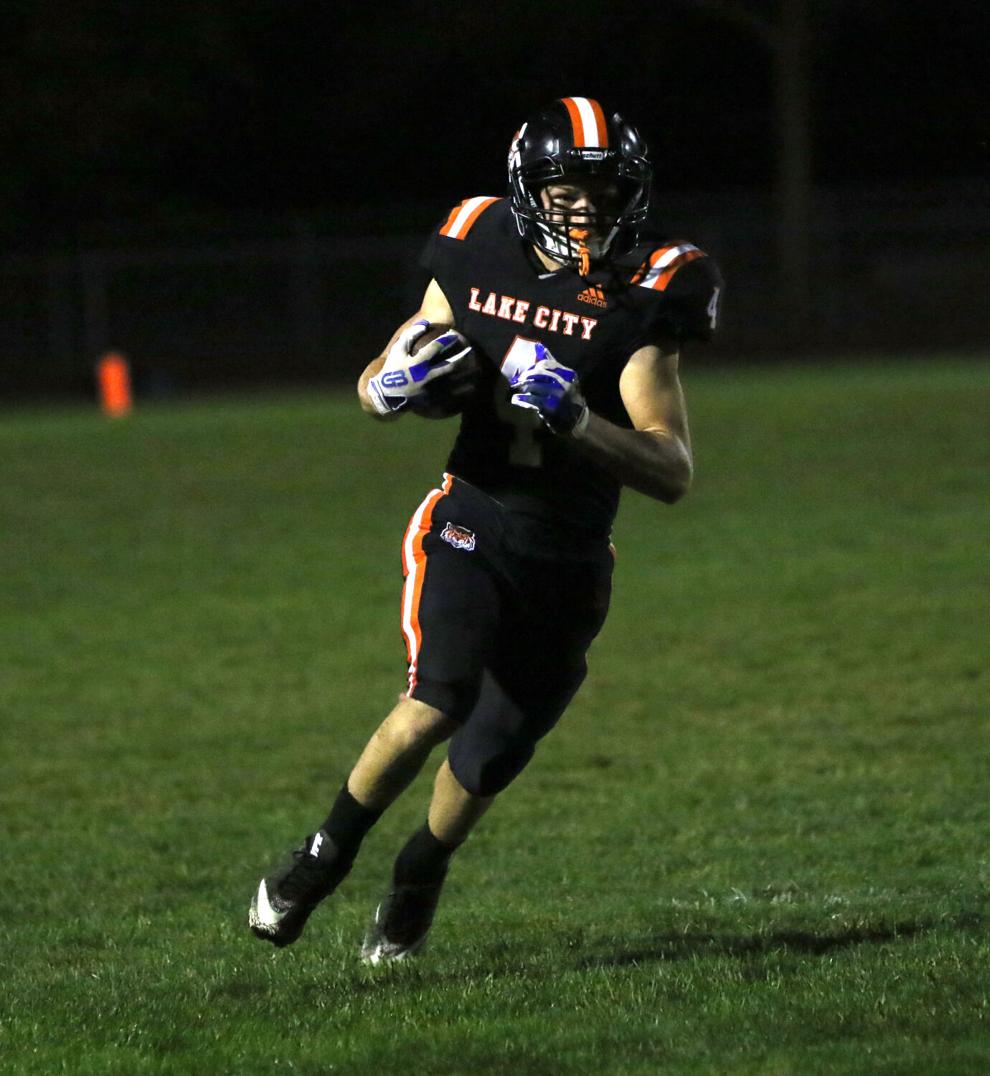 "It's as good of a team as we've had in a long time," Narum said. "The thing I keep telling people is this group loves football. That love and passion comes out on Friday nights. They love playing together. As long as we keep doing those things and playing physical and playing fast, the wins and losses will take care of themselves." 
The Tigers got off to a roaring start. Wohlers finished the first drive of the game for the Tigers on a 13-yard run. Jon Harvey ran untouched into the end zone from 31 yards out. Carson Matzke caught a 32-yard pass for a touchdown. Kris Ryan lowered his shoulder and powered through the Cougar defense for a 28-yard score. Finally, Matt DeMars caught a ridiculous throw from Wohlers for a 37-yard touchdown.
All of that came in the first half.
"I thought we controlled the line of scrimmage on both sides of the ball," Narum said. "Our offensive line really blew them off the ball and created big running lanes for Justin, for Kris and the rest of our backs."
The Cougars managed to score in the fourth quarter on a 15-yard run by Tre Hamilton. They moved the ball well on wide receiver screens, yet most of those yards and big plays came when the game was well out of reach.
Lake City (6-0, 5-0 Southeast) travels Thursday, Oct. 14 to Goodhue. The Wildcats (4-2, 3-2) lost to Chatfield 40-15 Friday night.
Notes
The Tigers didn't score on their second drive, but did manage to get points. The Cougars recovered a fumble at the 5-yard line and couldn't get any positive yards, getting swallowed up in the end zone on a third-and-11 from the 1-yard line. Max Balow was credited with the tackle on Z-M running back Tre Hamilton in the end zone.
Quotes
"We have a lot of guys who are threats to a defense. We can attack the field a lot of different ways in a lot of different ways. That's stressful on a defense." - Narum on the many ways the Tiger offense can be successful.
Stats
Passing
(Lake City) Justin Wohlers, 8-for-10, 141 yards, 2 TD; Jaden Shones, 1-for-1, 10 yards. (Zumbrota-Mazeppa) Zane Angerman, 4-for-21, 75 yards.
Rushing
(LC) Wohlers, 7 att, 80 yards, TD; Nate Evans, 12 att, 55 yards; Kris Ryan, 3 att, 50 yards, TD; Jon Harvey, 1 att, 31 yards, TD; Carson Matzke, 3 att, 29 yards; Aaron Lou, 2 att, 22 yards; Shones, 4 att, 20 yards; Parker Rodman 2 att, 2 yards; Karch Hegge, 1 att, 2 yards. (Z-M) Tre Hamilton, 21 att, 82 yards, TD; Connor Preston, 3 att, 35 yards.
Receiving
(LC) Matzke, 5 rec, 71 yards, TD; Matt DeMars, 2 rec, 65 yards, TD; Evans, 1 rec, 10 yards; Harvey, 1 rec, 5 yards. (Z-M) Preston, 4 rec, 75 yards.