RED WING — The Ath was a bustling place Saturday despite temperatures reaching the high 90s. With a Section 1AAA playoff triple header scheduled, Red Wing started its day playing in the middle game and hoping for a win to extend their season into at least the night game. Self-inflicted mistakes prevented that from happening though as the Wingers fell 8-6 to Jordan.
By the end of the game Red Wing led Jordan in base hits, 10-3. Two of Jordan's hits came in the first three at bats of the game, too. However, the Wingers also led in errors and walked batters — both of which put them in an early hole.
In the bottom of the first inning, Red Wing starting pitcher Aidan O'Brien got the first batter out but proceeded to surrender two hits, one walk and hit a batter. Three runs came across for Jordan in that span and O'Brien was quickly chased from the mound, giving way to Cooper Chandler.
Chandler worked his way out of a bases-loaded jam with one out to stop the bleeding. For his effort, Aiden Borgen smacked an RBI double in the top of the second to score Tyler Rodgers and get Red Wing on the board. It wasn't long before Jordan struck back and increased its lead, however.
In the bottom of the third inning Red Wing was inconsistent in the field once again, committing three errors and allowing Jordan to score three more runs despite not recording a base hit. Up 6-1, the game was beginning to slip away from Red Wing, but the Wingers scraped across one run to close the gap, thanks in large part to two walks and a hit batter.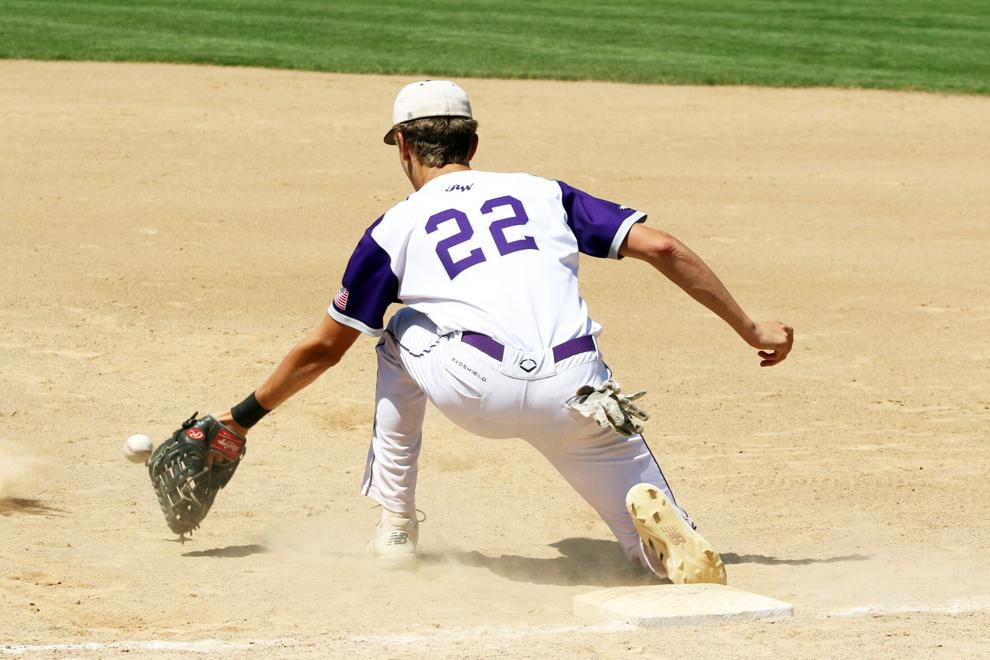 Jordan once again had an answer to Red Wing's attempted rally however, scoring two more runs in the bottom of the fourth. Again the Wingers committed an error allowing a run to score — increasing their total to five in the game. Worse yet, with a scoreless fifth inning the Wingers were down to six outs remaining and still faced an 8-2 deficit.
The tide started to change for Red Wing in the sixth inning though, when four runs were scored. Kicking off the rally were back-to-back singles by Borgen and Christiaan Koehler. Chandler walked to load the bases and Deso Buck followed with a two-run single to put runners at the corners and no outs on the board. Drew Ball was the first out of the inning but he drove in a run on a sac fly to trim the deficit down to 8-5.
Then with two outs, Reid Hartmann squeaked a ground ball through the infield to score Buck and suddenly Red Wing was only down two. Jorgen Ulvenes nearly made the game even tighter but was the third out of the inning after hitting a line drive rocket straight into the third baseman's glove.
Buck held Jordan scoreless in the bottom of the sixth to give Red Wing a chance at tying the game in the final inning, but the door was quickly shut on that opportunity after a double play two batters in put Red Wing down to their last out. Chandler hit a single and Buck was hit by a pitch to make things interesting, but Drew Ball flew out for the final out, putting an end to Red Wing's comeback bid.
"We felt like we kind of beat ourselves and didn't give ourselves the opportunity to win because we did play relatively well, we hit it around and only gave up three hits," Red Wing co-head coach Kyle Blahnik said. "But we gave too many baserunners with the walks, the hit batsmen. And five errors aren't going to win you many section playoff games either."
Pitching stats: O'Brien (⅓ IP, 2 H, 1 BB, 2 ER), Chandler (3 IP, 1 K, 7 BB, 1 ER), Buck (2 ⅔ IP, 2 K, 3 BB, 1 H)
Batting stats: Chandler (1 H, 1 R, 1 BB), Buck (2 H, 1 R), Ball (2 RBI), Evan Petersmeyer (1 BB), Mitch Seeley (1 H), Rodgers (1 H, 1 R, 1 BB), Hartmann (1 H, 1 BB), Ulvenes (1 R, 1 BB), Borgen (3 H, 1 RBI, 1 R, 1 2B), Koehler (1 H, 1 R, 1 BB)
Red Wing ends the season with an 8-15 record.