There's little debate that Cannon Falls and Lake City play one of the biggest regular-season games this season Wednesday in Lake City at 7 p.m. Both teams are in Class 3A and have been ranked No. 1 in the state -- Lake City is the current No. 1 team while Cannon Falls was ranked first in Class 3A for a week in September but remains in the top-10. Each team is in Section 1AAA and each are undefeated against teams from the section.
The game has section-seeding implications and means a lot for Lake City attempting to remain undefeated and Cannon Falls which is in position to earn a No. 1 seed in the section tournament. It could be a preview of the section championship game as well.
The contest is a contrast in styles -- Cannon Falls' smash-mouth rushing attack that is just relentless -- versus Lake City's aerial attack with Wohlers throwing all over the field. Which will prevail?
Republican Eagle sports editor Martin Schlegel and Cannon Falls Beacon sports/news reporter Alec Hamilton took turns answering a handful of questions ahead of the matchup. Each was given a chance to rebuttal after receiving a response from the other.
For full coverage of the game, visit republicaneagle.com/sports/football or cannonfallsbeacon.com/sports.
Which team benefits most from a win?
Alec: It has to be Cannon Falls right? A win over Lake City ties them with the Tigers at 7-1 and gives them a head-to-head advantage for the No. 1 seed in the section, should it come down to that. Having home field throughout the playoffs would also be big, especially in a unique environment like John Burch Park.
Martin: I do agree that Cannon Falls greatly benefits with a win over Lake City. It's not as obvious as it seems though. Section 1AAA is crowded at the top. Lake City and Cannon Falls are each 5-0 against section opponents. With a win, Lake City would secure the No. 1 seed. It is good for the community to see successful football and would solidify the thought, if it hasn't already, that Lake City is a team that can beat the best.
A: It's definitely crowded at the top; however I do think Lake City and Cannon Falls have separated themselves by both beating PEM -- Lake City back at the end of September 13-7 and Cannon Falls this last week 52-26. Section 1AAA is a two-horse race.
Which rushing attack needs to be better to win?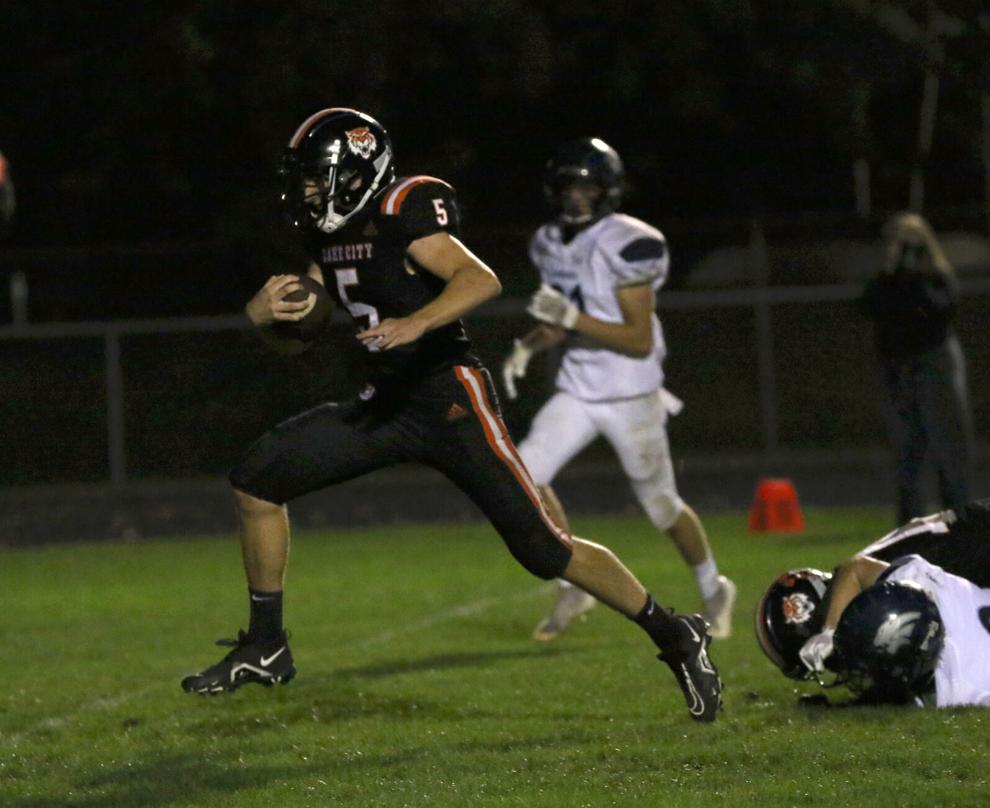 M: As much as I'd like to say the Tigers running backs need to be good to take pressure off Justin Wohlers and the passing attack, this question seems heavily geared toward the Bombers. They have in past seasons, and continue to this season, thrived rushing the ball. It seems imperative for the Bombers to be able to run the ball.
A: To me this is kind of a toss up, and I have some convoluted logic to support it. You're right in that the Bombers need to be able to run the ball because that is a vast majority of their offense. However, I don't think they need to run the ball for 400 yards, or 300, or maybe not even 200 to win. Is Cannon Falls running the ball at even 60% and controlling the clock enough to slow down the Tigers? That's the first half of the formula and the rest depends on getting after Wohlers on defense in my mind.
M: Pop quiz, who has led the Tigers in rushing yards in all but two weeks? It's Wohlers. He even rushed for -17 yards one week. Coincidentally, that was against PEM. Yet Wohlers was able to move the ball through air just fine that game. Don't get me wrong, Kris Ryan or even Nate Evans could rack up the yards rushing the ball. With Wohlers consistently leading the Tigers offensively, it seems like the pressure is on Carson Hammel, Riley Keenan and the Bombers to either manage the clock or keep up if the Tigers score quickly.
If they are behind, who has a better chance of making a comeback?
A: This is Lake City 100%. The Cannon Falls offense is not built to come from behind easily. Granted they have done it because their rushing attack is so potent and can break off chunk runs with ease but against a good defense it becomes dicey. 
The Bombers can also give up a comeback, as shown by the Chatfield game where Cannon Falls led 20-6 at halftime but was then outscored 38-14 in the second half. The Gophers did that by lining up their stud running back Sam Backer at QB and just having him read and react on draw plays and some designed runs. This might be a bad matchup for Cannon Falls given that Wohlers could do something similar. Hopefully they are prepared for that possibility.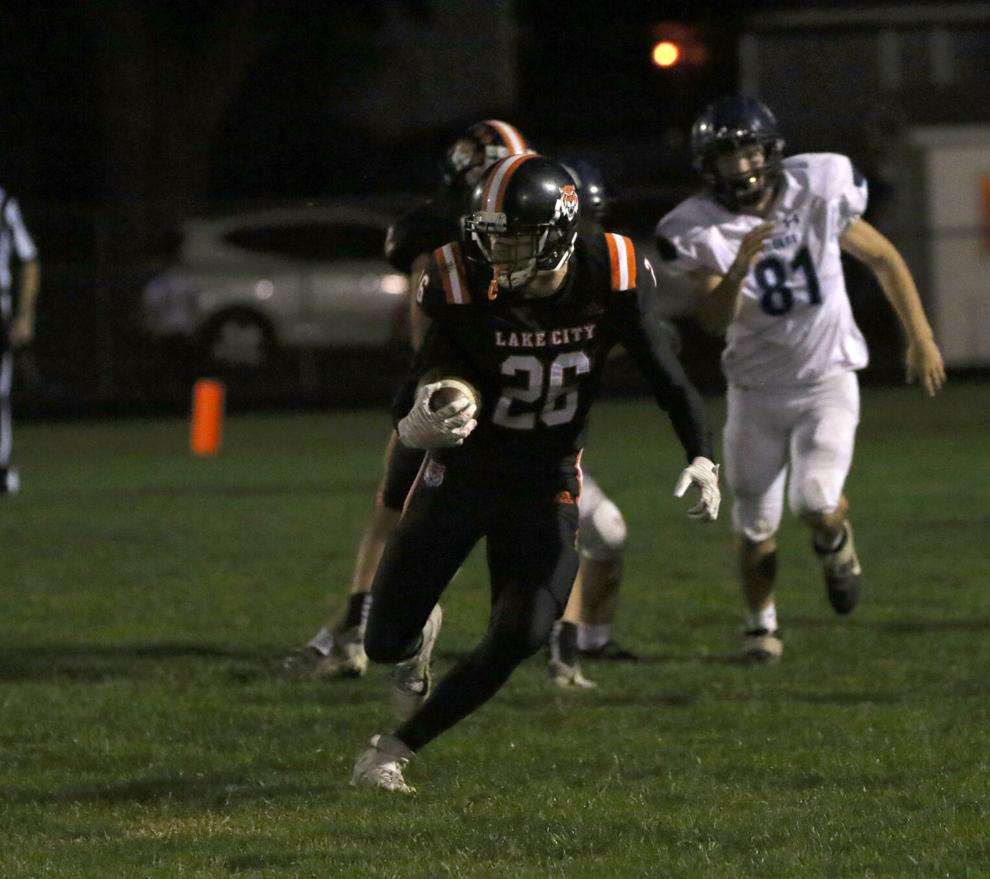 M: At least Cannon Falls has had that experience. The same can't really be said for Lake City. The Tigers have rarely trailed in any game this season. Only two games - against Caledonia and Goodhue - the Tigers were not in the lead right away. Last week against Goodhue, the Tigers were behind for 13 seconds. As far as comeback attempts go, the Tigers don't have any; unless you count beating Caledonia as a comeback because of the mystique of the Warrior's win streak. Bottom line, the Tigers' response time is incredible. If they did trail, it should be assumed they'll score quickly.
A: The most interesting matchup possibility is if Cannon Falls gets up by two scores or more. Then it will be strength vs. strength -- the Bombers ball-control, mash-you-in-the-mouth running game that just drains the clock way -- against Lake City's quick strike ability that can erase a lead in the span of just a few plays. The question of which side would succeed in that situation is fascinating.
M: The Tigers did have a time-consuming drive against Zumbrota-Mazeppa that ended in a field goal, but it took just over 7 minutes. The Tigers are capable of running off the clock. I think we're still experiencing whiplash from the 99 combined points between the Wildcats and Tigers.
A: That's why I think Cannon Falls has to avoid getting down early on in the game. Give Lake City a two-score lead in the opposite scenario than the one above, and they are fully capable of depriving Cannon Falls of the time it needs to score. That was a problem trying to come back against Chatfield. 
Any X-Factor players? Potential surprise players?
M: The men in the trenches for the Tigers; mainly the foursome of Sam Nutt, Cam Alvaraz, Ethan Roberson and Dylan Rumley. I've seen the kind of domination these players have on the line of scrimmage. They'll need to do that against the Bombers to stop the run and protect Wohlers.
A: The "men in the trenches" is right, Martin. Specifically for Cannon Falls, the defensive front. They got a bit exposed against Chatfield along with the linebackers. The Bombers' front-seven needs to get pressure on Wohlers and contain him so he's not running all over the field. Force other players to make plays for the Tigers. 
But I will add an under-the-radar one as well -- junior quarterback Colton Otto -- who might end up having to throw the ball 10, 12, 14 times in order to come out with the win. He has not been asked to do that all season as the most attempts he's had in a game are 10 in a tight win over Rochester Lourdes.
M: I'll toss out the name Max Balow as well. He's come up with several key stops, turnovers and was credited with the tackle on a safety. He's someone that fans might notice more than they would otherwise with all the running the Bombers do.
Type of game we expect to see?
A: This is a game where the weather will play a big role. Will fall continue to move in and we see a drop in temperatures, maybe even some rain? Then I think it's a low-scoring slog that favors Cannon Falls. But if the weather is nice enough so Wohlers does not have much difficulty throwing the ball and footing is fine, then it could be a highly entertaining shootout. I don't know if either team has seen an offense as good as what they will face Wednesday night.
M: Footing might not matter when Wohlers can make throws rolling left and be able to throw off balance against his body. It will matter when he and Kris Ryan run the ball. It will matter when anybody tries to tackle the ball carrier. I'd expect moderate scoring, with points slowly accumulating throughout the game.
A: Good point, that throw he made against Z-M was insane. But that just shows how important it is for Cannon Falls to get pressure on Wohlers. If he doesn't face any adversity or pressure, it could be a long night for the Bombers.
M: Maybe more important than applying pressure is pass coverage. The Bombers could do themselves a huge favor by having guys guard Carson Matzke, Matt DeMars and Zach Dather so closely that the Tigers have no choice but to run. Every team wants to stop the run and dare the other team to pass. Here, I'd do the opposite and take my chances.
A: That's true. And of course it's the opposite for the Bombers. They don't change formations, so passes are going to go to Beau Zimmerman at tight end and the running backs out of the backfield. If Lake City can force Cannon Falls to pass, and then bump the Bombers at the line of scrimmage, Otto could have a difficult time.