Dan Wiemer is well known in our area for his distinct style of painting using a combination of acrylics and watercolors to capture stunning landscapes and nature at its most beautiful.
An active member of Red Wing Arts, Dan for many years would donate his time as one of the artists painting in the gardens featured in the annual Red Wing Arts Garden Tour. The tour was a cooperative effort of RWA and the Goodhue County Master Gardeners and that is how I discovered Dan's affinity for native plantings, especially prairie plants.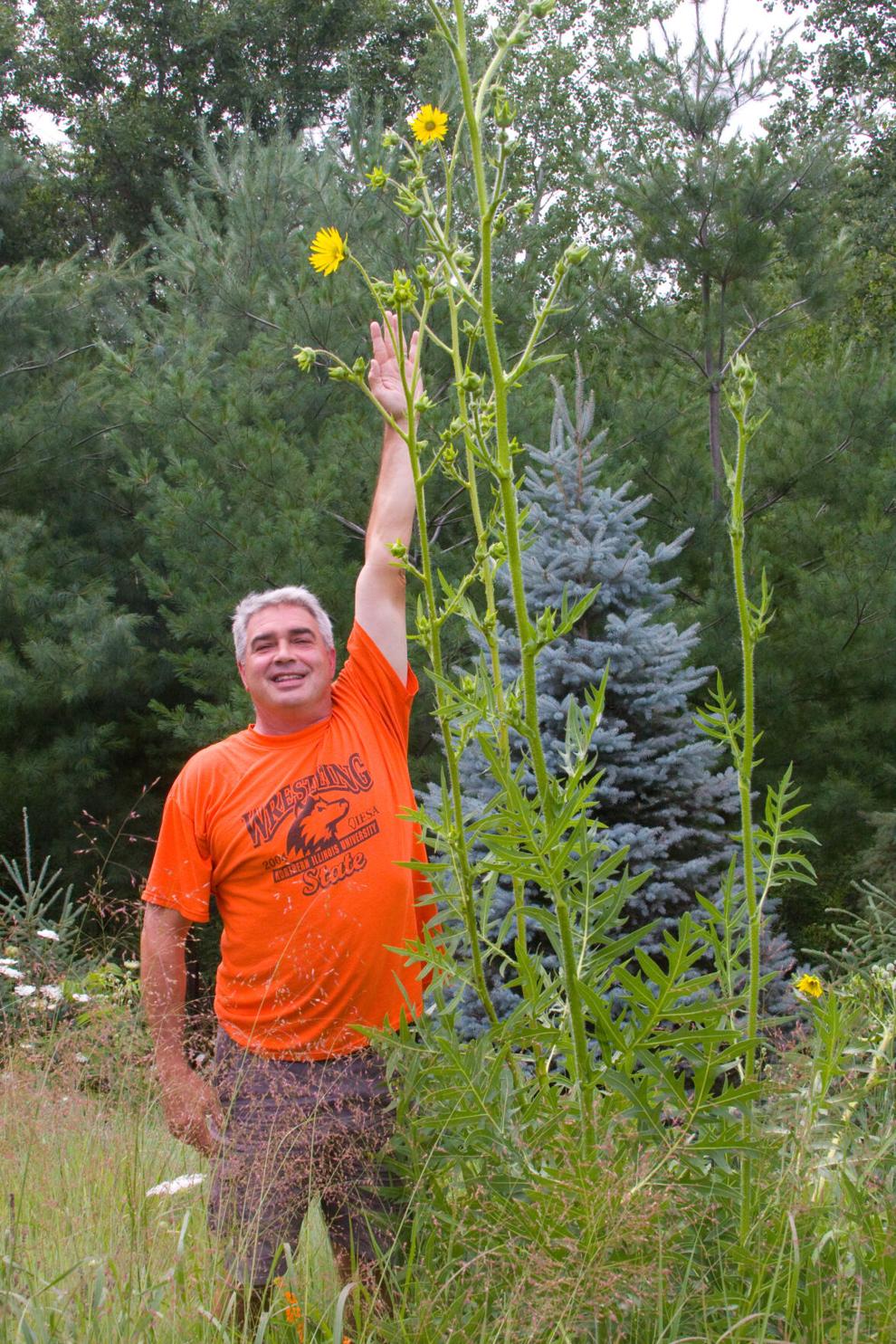 The last year of the garden tour, we were scrambling for gardens and Dan in all modesty said maybe we should look at his gardens and see what we thought. Long story short, we were impressed. Not only with the plantings, but with Dan's knowledge of soil types and the characteristics of each native plant.
Unfortunately, Dan's schedule didn't work out for that year's tour, but I did go away from the visit with seed from one of his favorite native plants, hairy golden false aster (Heterotheca villosa). I had never heard of it before seeing it in his garden, but it is now one of my favorite prairie plants as well.
Planting the prairie
Dan and his wife, Kim, moved to Red Wing 30 years ago and built their current home in Red Wing after living on the same street in a different location for 10 years. Over 95% of their property is woodlands with the remaining one-half acre planted in native prairie plants.
Before he established his native prairie, Dan admits that he made a huge error and planted what he describes as "commercial ditch grass" to keep the bare soil from the new construction from eroding. He then had to slowly transition from the perennial ditch grass to prairie over a period of 10 years.
"In a perfect world I would have planted prairie seeds with an annual grass."
Dan enjoyed doing the research as he was establishing his new native prairie gardens.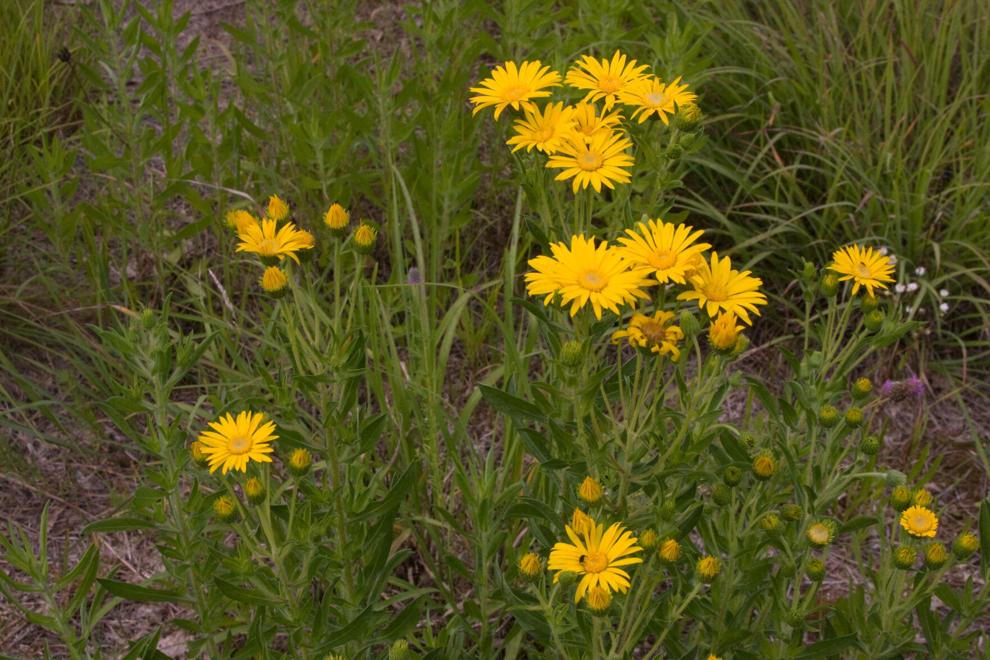 "I have two very different soils -- pure sand and pure clay. I wanted to see what I could grow on each site. I got plants and plugs specific to each soil area and that was my test laboratory. It was trial and error. I found what thrived and what died."
He planted plugs in the spring and harvested dried seeds each fall. He spread the collected seed when the ground was frozen after the first light snowfall. He discovered that if he waited too long, the birds would feast on most of the strewn seeds sitting on top of the heavier snow.
Birds and butterflies
The tall compass plants (Silphium laciniatum) are a favorite food of the goldfinches that flock to the dried seedheads as the summer winds down.
Because there are two habitats together, the sand prairie and the deciduous and coniferous woodland, there are a wide variety of birds that frequent each habitat including indigo buntings, the finches and many other songbirds.
Butterflies are also frequent visitors to the flowering prairie plants. This season was an especially good year for monarch caterpillars. Dan was astounded to find 12 plump monarch larvae all munching away on just one bright orange butterfly weed (Asclepias tuberosa).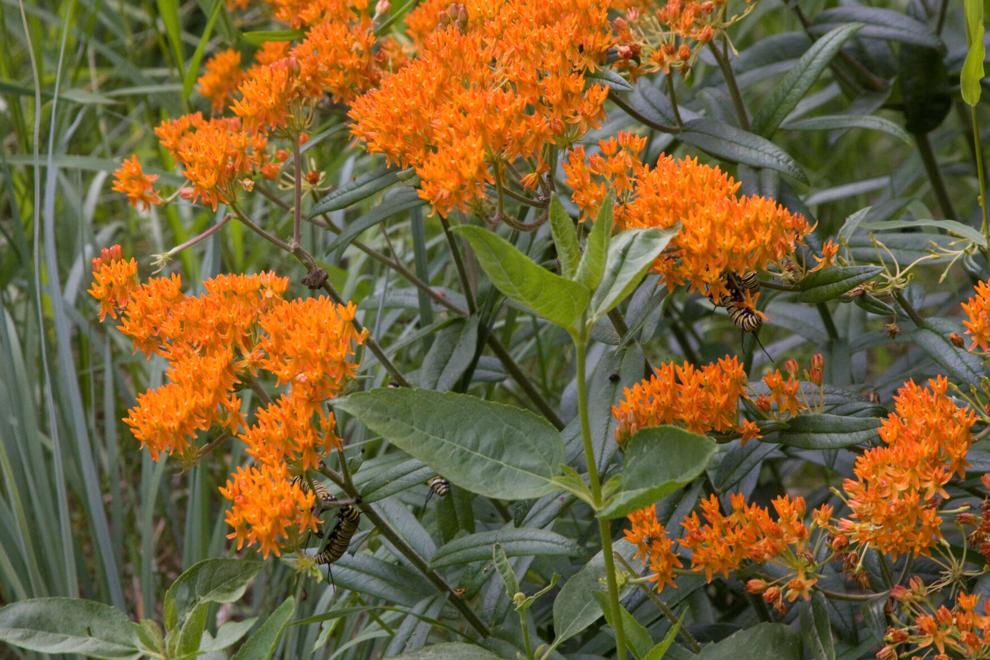 Why prairie?
When asked why he decided to establish a prairie planting Dan explains:
"My father, Dave, was a landscape designer who worked with Rockford, Illinois, park districts to establish bike trails and parks so I had an early interest in the outdoors and prairie restorations.
"The shapes and variations of the natural plants have always fascinated me. I like the wildness of my prairie garden and that it is not the manicured perfect that a more formal garden would have.
"I would say though, that many homeowners think you plant native prairie and there is zero maintenance, but there are always thistles and other invasives that want to take over.
"Like any garden, there will always be a few weeds that need to be pulled."
Patience is key
Dan recalls how discouraged he was when he did not see some of the larger prairie flowers like the compass plant or prairie dock appear many years after planting. He now knows that it takes five or six years for their roots to establish, but once they do -- they are magnificent!
Notes
Artist Dan Weimer, www.danwiemer.com
Become a Goodhue Master Gardener! We are now taking applications for 2022. Info at z.umn.edu/become-master-gardener