Larry Lundblad agreed to lead Minnesota State College Southeast for 17 months. Twice his interim presidency was extended and, 41 months later, the two campuses and the Minnesota State system bid him thanks and farewell -- for now.
Lundbland failed retirement once, speakers noted, having barely retired from MSC Central Lakes College before getting tapped for MSC Southeast. They then launched into a list of local accolades under his leadership:
The bicycle fabrication program came to fruition.

The two-year registered nursing program is back this fall.

The Red Wing campus gained mechatronics with 60 incumbent workers from seven companies already enrolled.

The college and local high schools created affiliated programs.

And a sandwich in the college cafe bears his name (grilled cheese on Texas toast with extra sloppy joe)
When his turn came at the microphone at Tuesday's reception on the Red Wing campus, Lundblad got the last laugh.
"Marsha," he said, looking down at incoming President Marsha Danielson seated in the audience, "I don't know how to break this to you, but I think I'm going to stay."
Josiah Litant, vice president of student affairs, gave opening remarks, noting that Lundblad remained laser focused on preparing the college for its next chapter.
"Make no mistake, this college is ready to do big things. What Larry Lundblad understands -- what his leadership has reinforced at Southeast -- is that a technical and community college is of by and for our local communities," Litant said.
Rep. Barb Haley recalled how she was in her second term when Lundblad came to Red Wing.
"I knew immediately that Larry would be a perfect fit for this campus and for this community, because when I first met him, he talked about the staff here, he talked about meeting business leaders and community leaders, and he talked about the students -- the challenges that they face academically, as well as personally," Haley said.
She praised his commitment to equip students with knowledge and skills for a rapidly changing world. In turn, local employers have a trained and ready workforce so that they can grow and thrive.
John Huth of campus' world-renown musical instrument program spoke on behalf of faculty and staff.
"It's no news that when Larry arrived MSE Southeast was pretty beat up, following administrative turnover and buildings with way too few students. It seemed as if many of us were still doing our best, but fatigue was setting in," Huth said.
Things are markedly different from 2018. 
"Despite the challenges, and despite the trends in higher ed, we are doing it," Huth said. "We all have a hand in making college better. It means choosing well who is here to do the work today. But more importantly, who is left behind to continue to work tomorrow."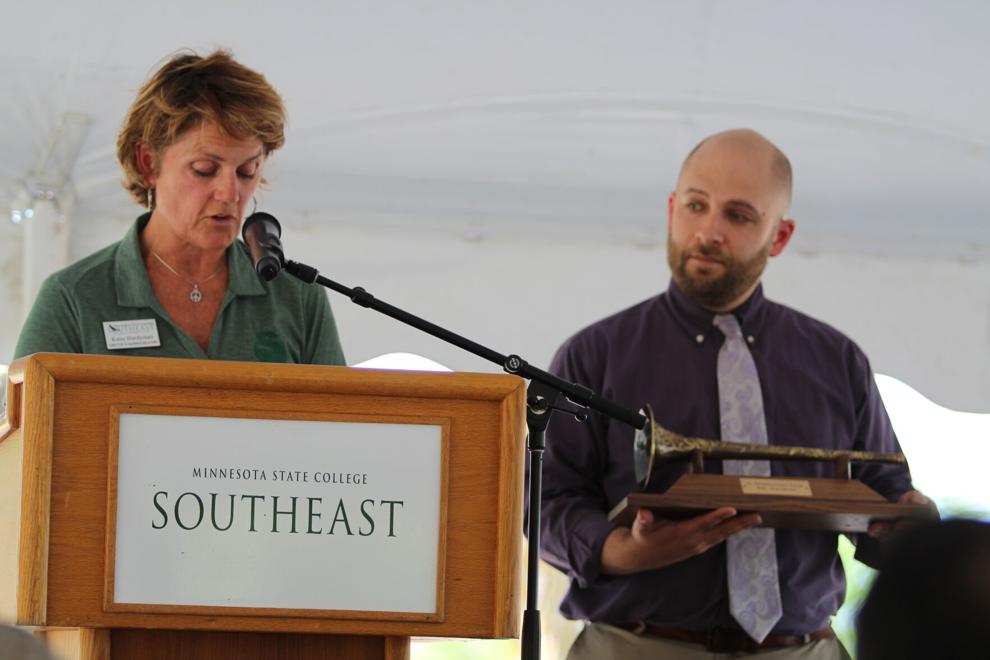 Lundblad deferred all credit to the staff, reflected on the Red Wing community's strong engagement and also worked in another piece of news: The Red Wing Workforce Center -- now CareerForce -- after a hiatus of several years, will return to campus this fall.
"We're back on track," he noted, and even the pandemic didn't stop the college's progress.
"The tag that we have at the college here is MSCS cares," he concluded. "The outstanding faculty and staff and administration here at Southeast makes sure that this happens every day. It's been a great experience."