About two dozen volunteers worked Saturday, May 21, to adorn graves of veterans in Oakwood Cemetery with American flags. The volunteers fanned out through the 35-acre cemetery with bundles of flags in their arms so that every veteran was remembered.
The graves include veterans from the Civil War through the recent conflicts in Iraq and Afghanistan.
Throughout the area, veterans groups are preparing to honor those veterans who died in service to their country. Memorial Day activities include:
Bay Point Park 
Flags will be on display in Bay Point Park in honor of veterans. Flags will be on display from Friday, May 27, through Tuesday, May 31. The program will be at 6 p.m. on Friday. Attendees are asked to bring their own chairs. 
Flags can be sponsored in honor or memory of a veteran. Each flag is $25. For more information, visit redwingareaseniors.org.
Red Wing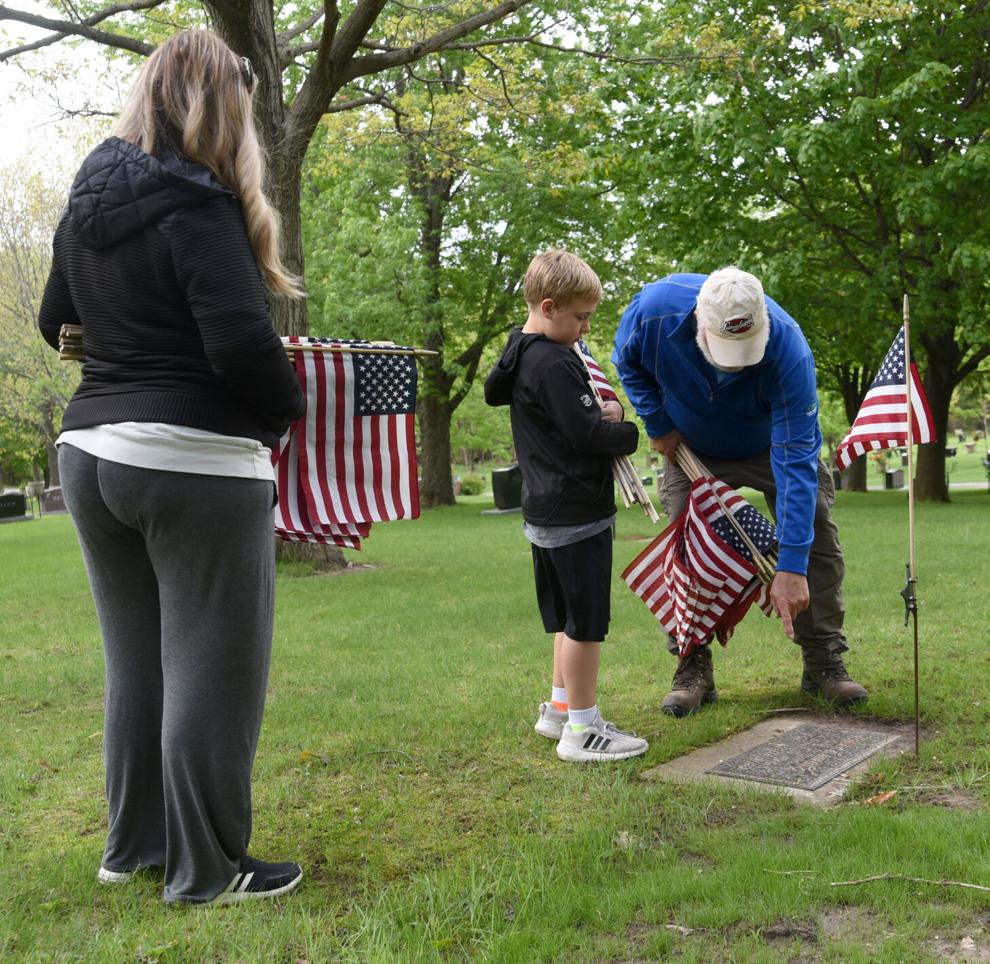 The annual Memorial Day Observance begins at 8:45 a.m. on Monday, May 30, at Bay Point Park. 
Invocation: Pastor Brian Scott

Present the Colors: Color Guard, Red Wing Composite Squadron Civil Air Patrol

National Anthem and musical interlude: Red Wing High School Ovation Choir                                                                  

Logan's Proclamation: Neil Bruce

Gettysburg Address: Sharon Marty

Musical Interlude: Red Wing High School Concert Band

"Armed Forces Salute": arr. Bob Lowden                      

Mayors' Remarks: Mike Wilson 

Main Address: Col. Timothy T. Kemp, Chief of Staff, 34th Infantry Division, U. S. Army

Our Departed Comrades: Roland D. Meffert          

Musical Interlude: Red Wing High School Concert Band

"America the Beautiful": K. L. Bates and S. A. Ward 

Artillery Salute: 2nd Minnesota Battery, 1st Lt John J. Cain, Commanding

Floral Tribute: Descendants of the Civil War & Spanish American War

Firing Squad Salute: All Veterans Firing Squad    

Taps: Sakya Apenhorst and Grace Bremer, Red Wing High School Concert Band

Retire the Colors: Color Guards / Sergeant At Arms

Benediction: Pastor Brian Scott     
Memorial Day March
On Memorial Day, a march is hosted on the 28-mile stretch of Great River Road from Red Wing to Hastings to honor fallen soldiers.
Participants will start at the Field of Honor in Bay Point Park at 6:00 A.M. and the final marchers are expected to reach the Hastings arch bridge by 5:30 P.M. 
According to the event website, "Along the route we have Honor Markers at each mile with our fallen comrades, family or friends to honor them and remind us who we are walking for. Our route is the "Great River Road" from Red Wing up to Hastings, MN. If you had to pick a good stretch of road to walk in Minnesota, this is it." 
The event is free to the public and will take place on Memorial Day rain or shine. The march event is followed by a brief program and live music at the Hastings Rotary Pavilion.
Goodhue Area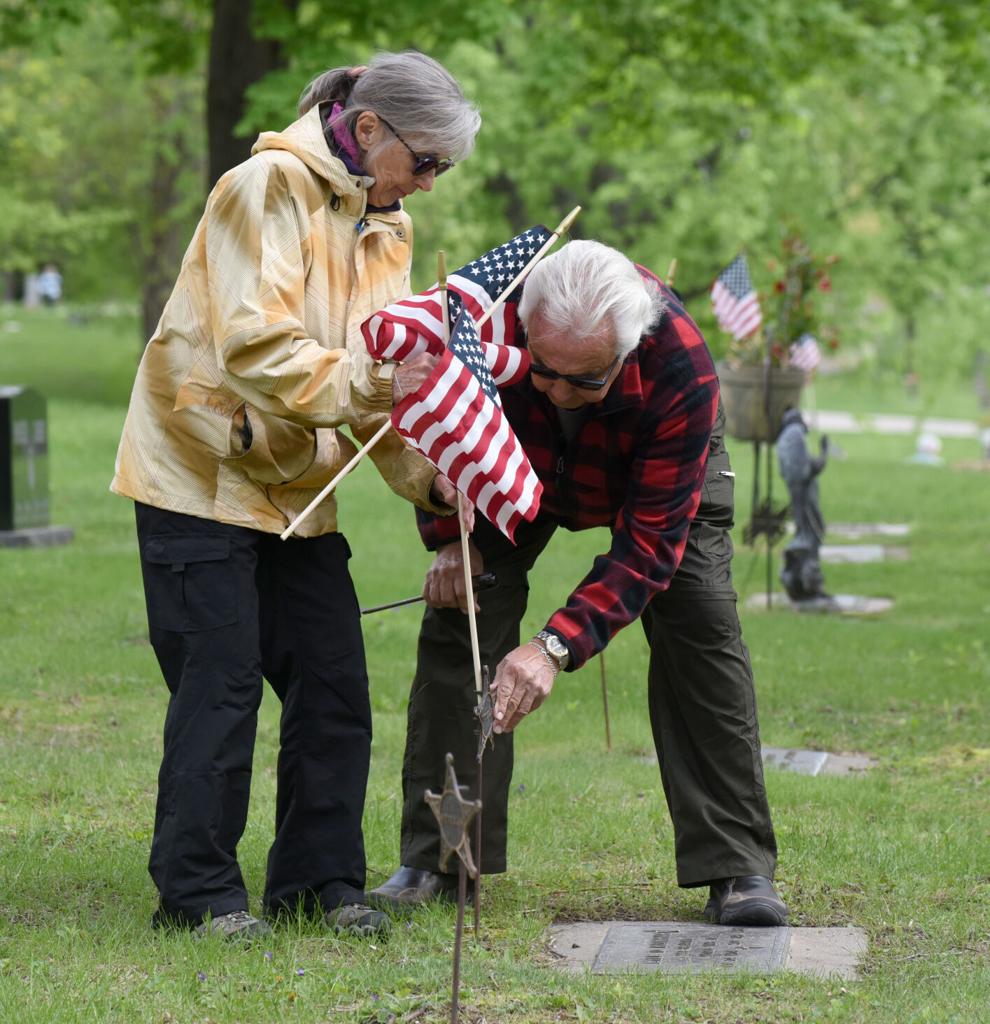 Memorial Day ceremonies are scheduled for Monday, May 30. Bellechester American Legion Post 598 and 3rd Minnesota, Co C. will be at the events. 
St. Columbkill Cemetery, Belle Creek, mass at 8:15 a.m.

St. Columbkill Cemetery, Belle Creek, 9 a.m.

Evergreen Cemetery, Goodhue, 9:30 a.m.

Presbyterian Cemetery, Goodhue, 10 a.m.

St. Mary's Cemetery, Bellechester, mass at 9:45 a.m.

St. Mary's Cemetery, Bellechester, 10:30 a.m.

St. Peter's Cemetery, St. Peter's Cemetery, Belvidere, 11 a.m.

Union Cemetery, Union Cemetery, Belvidere, 11:30 a.m.                                                 
Plum City 
Plum City American Legion and Auxiliary Post No. 365 will visit cemeteries before making local stops and holding a program.
9:30 a.m. Free Home Cemetery

9:50 a.m. Lund Cemetery

10:10 a.m. Ono Cemetery

10:30 a.m. Town of Union/Village of Plum City and St. John's cemeteries

11 a.m. Plum City High School

11:15 a.m. The Seasons/Outside the Care Center

11:30 a.m. Spring Pond Park
A program and lunch will begin at 11:30 a.m. at Spring Pond Park. 
Cannon Falls 
The Memorial Day parade starts at 10:30 am in downtown Cannon Falls and ends on Highway 19 at the Cannon Falls Community Cemetery. The memorial service will begin at 11 a.m. at the Colvill Memorial site. Cannon Falls also has a Veterans Memorial at Two Rivers Park on Highway 20.
Members of VFW Post 4452 and American Legion Post 142 will host the events. Activities get underway with a free breakfast 7-9 a.m. for all local veterans regardless of whether they are members of a veteran's organization and parade participants.
Glenn Schultz, China Sea veteran, will serve as grand marshal.
The parade on Monday begins at 10:30 a.m. on Third Street by Merchants Bank. The parade route will run south to Park Street, right on Park to Fourth Street, north to Mill Street, east on Mill Street to Second Street North, to Minnesota Street and then to the city cemetery.
A special program will begin at the cemetery at about 11 a.m. Rod Johnson will be the master of ceremonies. The featured speaker will be Chad Sheridan 2021-22 American Legion Post commander. 
The invocation and benediction will be given by Pastor Tim McDermitt, St. Ansgar's Lutheran Church. Vanessa Peer, 2019 American Legion Girls State delegate, will read "In Flanders Field."
Nathan Baszuro, 2022 American Legion Boys State delegate, will read "Response to In Flanders Field."
Ewan Johnson, 2022 VFW Voice of Democracy, will read the "Gettysburg Address."
Jesse Johnson, commander VFW Post 4452, will read "The Final Inspection." Tom Heski, member of American Legion Post 142, will read "No, Freedom Isn't Free." The Cannon Falls High School Band, under the direction of Mike Legvold, will provide music.
Randolph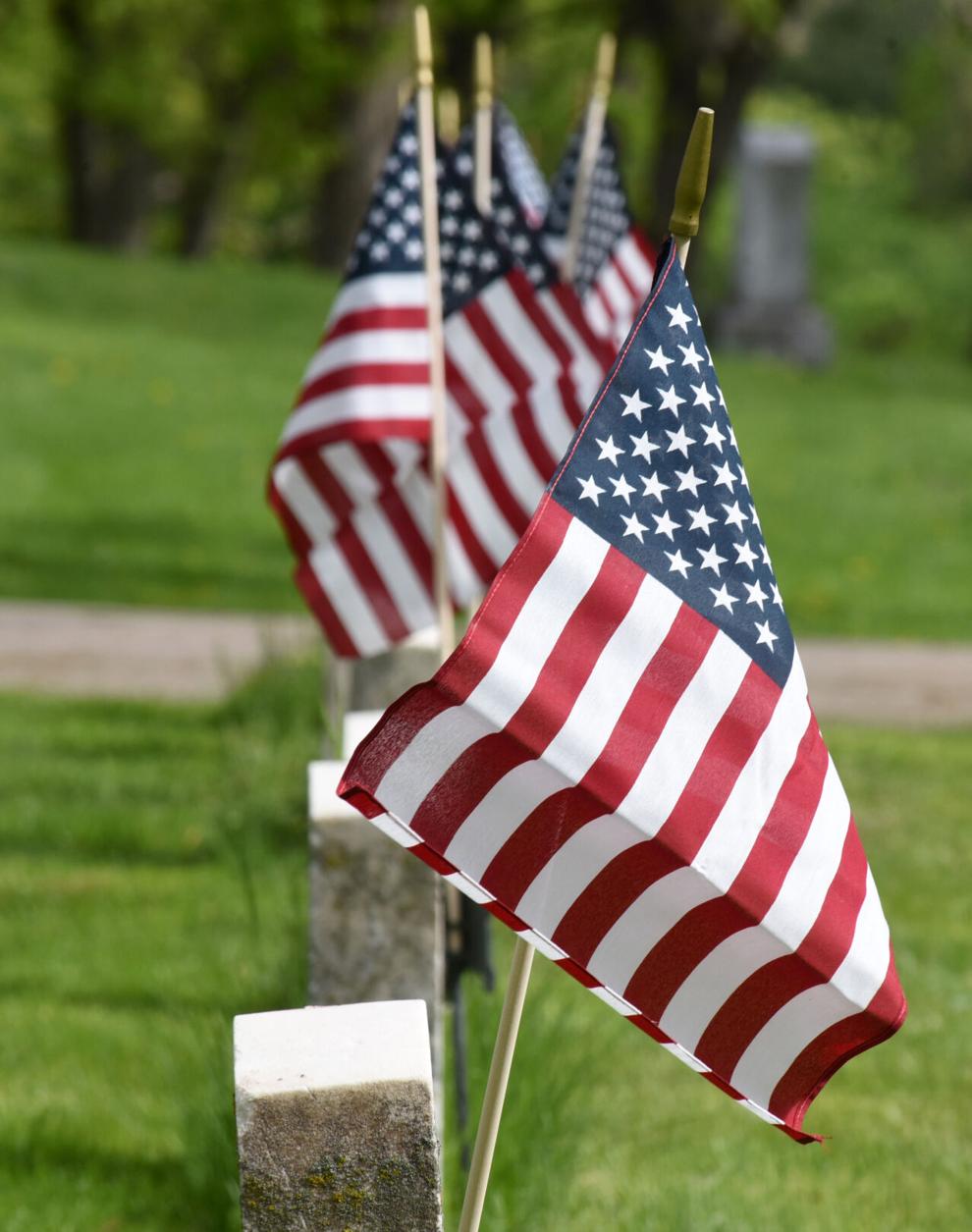 Randolph Area Historical Society will host a Memorial Day service at Lakeside Cemetery, a half  mile east of Randolph on County Road 88 at 10 a.m. Monday, May 30.
Krista Odte will lead the song, and the Randolph High School band will perform. Local Scouts will present the flag.  Local veterans will lay wreaths.
Local resident of 52 years John Banaszewski, a retired Marine, will be guest speaker.
Social to follow.
Hudson 
A Memorial Day Bean Bag Tournament will be hosted at 2:30 p.m. on Monday, May 30, at Lakefront Park in Hudson. The event raise money for the Freedom Park Center.

Memorial Day Music in the Park will be a family friendly event with live music, bouncy houses, a bean bag tournament and more. FIT Real Estate Group, along with VFW Post 10818, would like you to join us in honoring our fallen heroes. The event will be from 2–7 p.m. at Lakefront park.

The VFW will be at St. Patrick's Cemetery at 9 a.m. for honors. At 10:30 a.m., the Boy Scouts, Hudson Ambassadors and Hudson High School band will join the VFW at Willow River Cemetery for a full program, including a guest speaker. At 11 a.m., the VFW will be at Lakeview Cemetery in Lakeland and then later at Evergreen Cemetery in Afton after that. 
Elmwood
The Crain-Ottman American Legion Post 207 and Auxiliary Unit 207 will hold its Memorial Day program on Monday, May 30 at the Veteran's Memorial Park. In case of rain the program will be held at the Elmwood Auditorium.
The schedule for the outlying cemeteries is:
St. John's Lutheran, 8:15 a.m.

Oakridge, 8:30 a.m.

Spring Lake, 8:50 a.m.

Sacred Heart, 9:30 a.m.

Old Rock Elm, 9:45 a.m.

Poplar Hill, 10 a.m.

Welcome Home Assisted Living 10:20 a.m.

Veteran's Memorial Park, 11 a.m.