Campaign season is full of mixed emotions. Some people find the opportunity to talk to candidates to be a positive part of election season. Others do not. 
A list of events, activities, things to do and bases to cover are made each week by candidates when strategizing how to win over their neighbors' votes. 
On an early Sunday morning, Laurel Stinson left her home in Red Wing to do just that. 
The first thing on Stinson's checklist for the morning was delivering campaign signs. 
She hopped in her car, the back filled with campaign signs, she likes to keep them in her car just in case she runs into somebody who wants one. 
The first thing she does before pulling out of her driveway is write down her mileage at the start of the day. This is something she reports as a part of her campaign finances.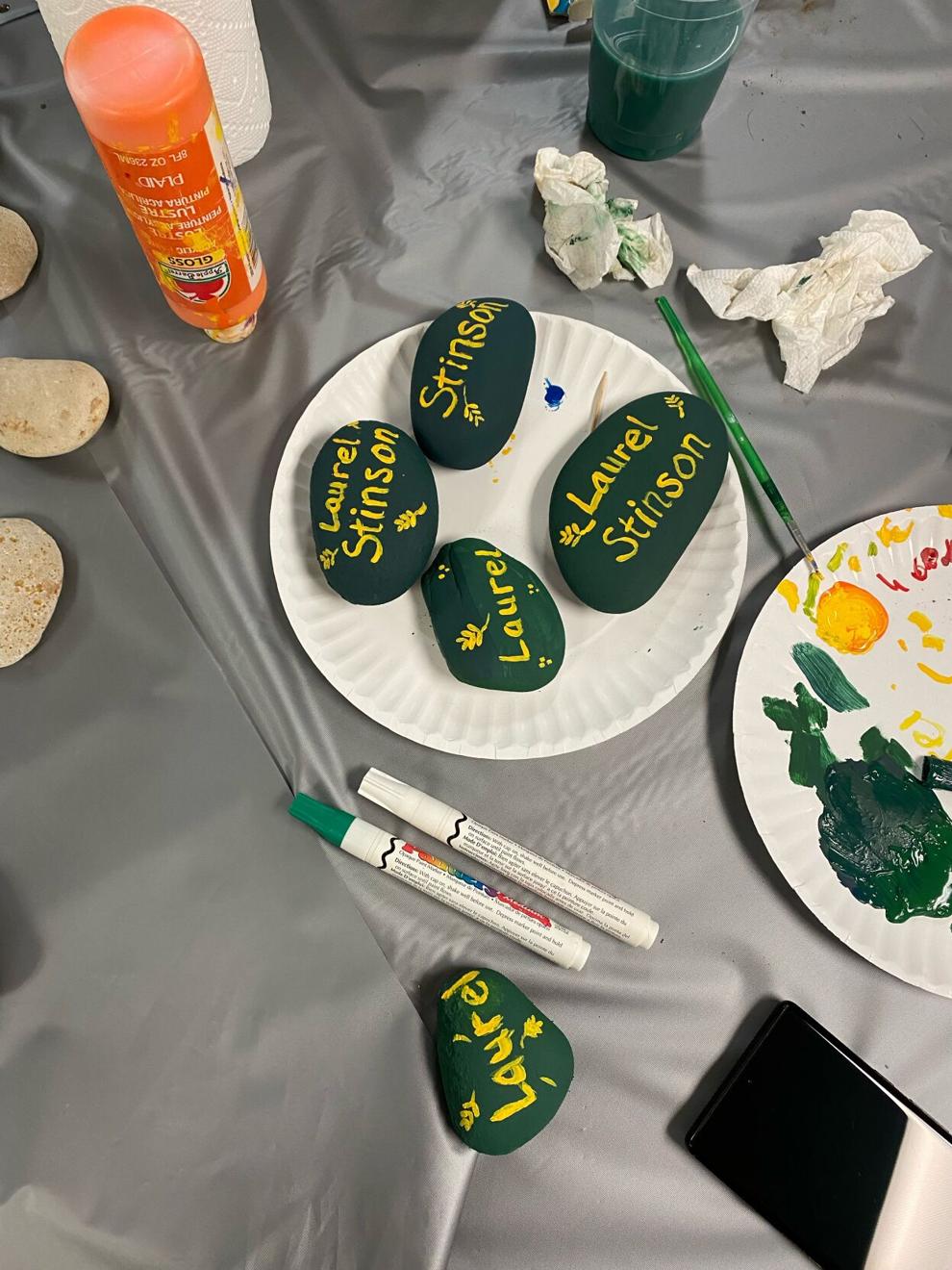 Stinson is running for the Minnesota House of Representatives in District 20A. This district represents a variety of rural cities like Goodhue, Cannon Falls, Red Wing.
The district has a population of 41,000 within its borders. 
In this upcoming election, three candidates are running for the seat – Stinson, Republican Pam Altendorf and independent Roger Kittleson.
Over the last few years elections have seemed to become more and more intense, pushing candidates to get out into the neighborhoods and find out the issues their district faces.
"Door knocking" is just one piece of a campaign, especially when candidates are running for state or federal offices. 
"You don't want to lose by two votes because you didn't knock on that last door," Stinson said. 
This particular Sunday morning, Stinson had five stops to distribute signs.
Normally there is a coordinated campaign through the DFL that will help her with this, but because she lives in Red Wing she likes to deliver some of the signs in town herself. 
"I actually have a team of people who distribute signs for me, these ones I'm doing myself because they signed up through my website, and I'm closest to them," she said. 
Stinson hands out her signs for free, she sees this as an easy way to be inclusive. If someone can't afford to buy one, she doesn't want that to prohibit them from participating in election seasons. 
"A lot of campaigns charge for the signs, I haven't done it that way … I give them out to anybody that wants one, and if they want to make a donation then they can. But I don't want to exclude anybody that can't purchase a sign," she said.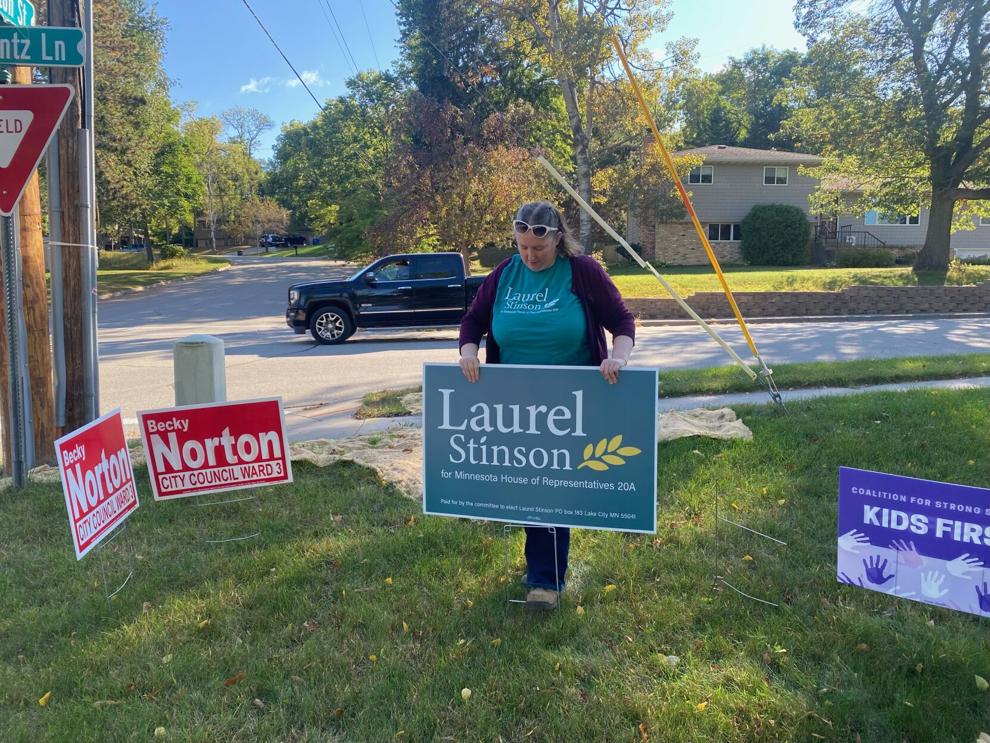 "Maybe the only thing they can do to participate is have a sign in their yard and other people will give more than the value of the sign so that is the way I like to do it," she continued. 
When knocking on the doors of strangers, it's hard to say if people will answer or not. Many duck their heads until whoever is at the door walks away. 
This morning was different though. Every door Stinson knocked on was answered and each of the residents  was excited to see her with a large sign to place in the front lawn. 
Recent elections have pushed more residents to be engaged in their local and state politics.
As Stinson delivered signs, she was knocking on doors of supporters who had requested a sign. So these interactions were a bit different than traditional door-knocking. 
"Most of the time folks aren't home when I'm delivering signs unless I call ahead, but these interactions are always positive since they are already supporting me," Stinson said. 
Because Stinson is the DFL-endorsed candidate, she utilizes some of the party resources. There is a coordinated campaign filled with volunteers who go door-to-door and talk about some of the DFL candidates in that area. 
The Wabasha County DFL has someone in Lake City that distributes signs. In Cannon Falls there is another person who distributes signs there. 
"It is huge to be endorsed by your party," Stinson said. "There are very strict rules for what they can and can't do for my campaign though." 
The rules for campaigns vary, a lot of it has to do with campaign financing. 
"One of the first thing I had to do when I decided to run was read all of the campaign finance rules," she said.  
"You have to register with the campaign finance board, but before you can register you have to have a checking account. And before your campaign has a checking account you have to have a tax ID number from the IRS," she continued. 
There are many steps that go into starting a political campaign. 
After delivering signs, the next thing on Stinson's list for her busy day was to go to a local community event. 
Candidates usually campaign at local events to make sure their face and name are familiar to the public before voting day comes around.
It is similar to having signs distributed. The name familiarity can be helpful when people head to the polls on Election Day. 
"The purpose of yard signs is for name recognition, you want people to have seen your name enough times, so when they see it on the ballot they recognize you," she said. 
During this Sunday in the height of campaign season, Stinson planned a meet and greet event at Jordan Towers, the housing high-rise in downtown Red Wing. She wanted to give people the opportunity to get to know her and ask as many questions as they'd like. 
During this meet and greet event, Stinson planned an activity to keep the conversations comfortable. It might be easier to talk about political issues like women's rights and public school funding while painting rocks.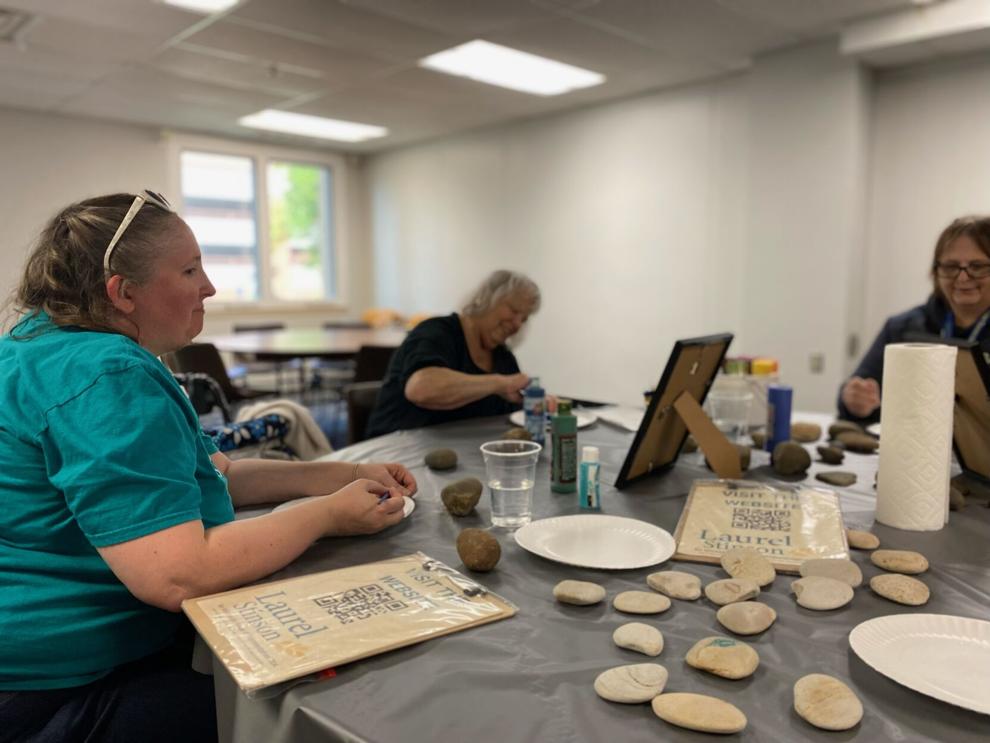 "When you say you believe in women's rights are you for abortion?" one resident asked. 
Stinson responded by saying, "I push back against that phrasing because I don't think anyone is 'for-abortion,' but I am the only pro-choice candidate, and I don't think the government should make those decisions."  
Stinson is originally from Lake City and now lives in Red Wing, she attends events across the county and district to get to know the voters.
As a DFL candidate in a historically "purple" district, it is hard for her to know which way people will vote in November. So hitting all the bases is important to Stinson during her campaign. 
"I'd call this district a purple district, Red Wing is more blue than some of the surrounding cities," she said. "With the coordinated campaign and my team before the election we are set to knock on every door in Red Wing," 
Throughout the election season so far, some have commented on Stinson's soft-spoken approach to politics. To her this is one of her best assets. 
"During campaigns and within politics there are people on both sides that go out and they yell and they make things as uncomfortable as possible for elected officials and that keeps people who are more calm and more reasonable from wanting to participate," she said. 
"It clears the field so that not as many people want to run and that limits the options. I feel that it is important for people to have a representative that they aren't afraid to talk to," she continued.  
As the day wound down, Stinson went door-to-door with the coordinated campaign. After talking with voters all day, this is the last thing on her list before heading home to spend time with family. 
Campaigns take a lot of time, effort, money and resources. Candidates running for public office usually have to dedicate most of their time to their campaigns. 
She normally works full-time at a church in Pepin, but during her campaign, she has scaled back to working part-time to focus more on her campaign.
"I work for a church, and I do bookkeeping for them usually, I've been lucky that they've allowed me to be flexible during my campaign," Stinson said. 
"I'm focusing on my campaign pretty full-time right now as well as also still splitting time with my job and my seat on the City Council," she continued. 
At the end of a busy Sunday of talking with voters Stinson goes home to spend time with family with another full week of campaigning ahead of her.