Jay McCleary passed away in November after battling esophageal cancer for almost a year. The Red Wing Sustainability Commission named its annual sustainability award in his name, proving true the saying "gone but not forgotten." 
McCleary was posthumously awarded the first sustainability award. 
City Council Vice President Evan Brown is the council liaison to the commission. He said on Monday, "I can't think of a more fitting person to have the award named after or as a first recipient."
McCleary worked for the city for over 34 years. After retirement, McCleary volunteered with the Sustainability Commission. Melissa Baartman, the city's community and economic development facilitator, wrote of McCleary, "Jay was a champion for sustainability and played a pivotal role in having the city install solar electric arrays at the fire station, waste campus, community development/city hall and public works facilities. This work, coupled with the city's solar garden subscriptions, has resulted in 120% of the city's total municipal electricity consumption coming from solar since 2019. Jay' s work in implementing GreenSteps best practices helped position Red Wing at the top level in the GreenSteps city sustainability rating program. Jay also helped bring recognition to Red Wing's sustainability efforts by volunteering to travel and speak to other communities."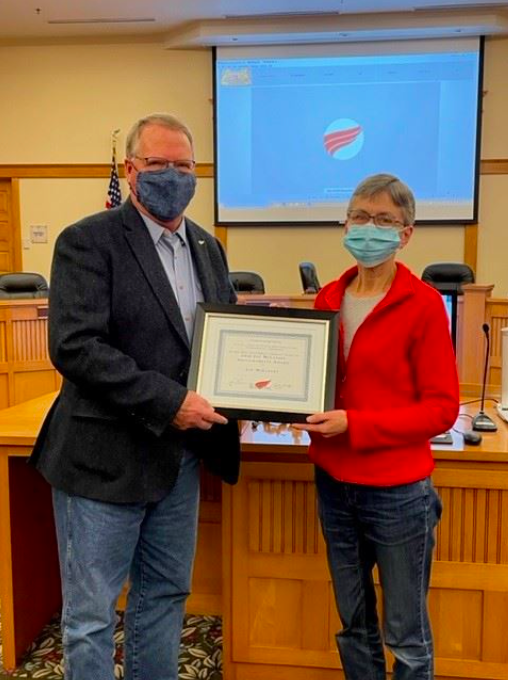 McCleary's volunteer work for sustainability included attending a national conference in Philadelphia to share information about Red Wing's sustainability projects and goals. 
McCleary worked with the Red Wing Energy Action Team. This resulted in the "Green Wing Energy Action Plan," a 67-page document with the mission to aid the community in developing and supporting sustainable energy production. 
Sustainability Commission member Bill Gehn nominated McCleary for the award. Gehn told the commission, "Jay's activities and achievements have made Red Wing aware of the increasing importance of sustainability."
McCleary's wife of 40 years, Nancy McCleary, accepted the award on his behalf. She told the City Council through tears, "I don't really have a lot to say, other than this is certainly an honor, and we are thankful for it. It was a real passion for Jay to support sustainability, and he did it long before it was popular."