Goodhue County Commissioner Paul Drotos stepped down July 19 due to his ongoing battle with terminal cancer of the brain, lung and bones. Red Wing native Susan Betcher was sworn in the same day to serve in his place.
"[He] has dedicated his life to being a public servant by ensuring the people's interests are always put first," administrator Scott Arneson said. "Whether people personally know Commissioner Drotos or not, he has always worked with their best interests in mind."
Drotos has served as commissioner of District 5 since 2017 and used this time to tackle sustainability issues, lower greenhouse gas emissions, reduce waste and revitalize the local housing development.
Drotos has encouraged residents to bike more and use electric vehicles if possible.
"I believe that sustainability is the issue of our lifetime because it can address environmental degradation and climate change for the long run," Drotos said in an interview with the Republican Eagle.
Throughout his political career, Drotos has been involved in community organizations including United Way, Red Wing Lions & Elks Club, Red Wing Arts, Goodhue County Historical Society and Great River Rail Commission.
"We would like to thank him for his tireless servitude to the county," Arneson said.
As he steps down from his county position, Drotos said he wants to focus on his health and is certain Betcher will be a steadfast public servant. He nominated her as an interim and other board members approved her appointment July 19.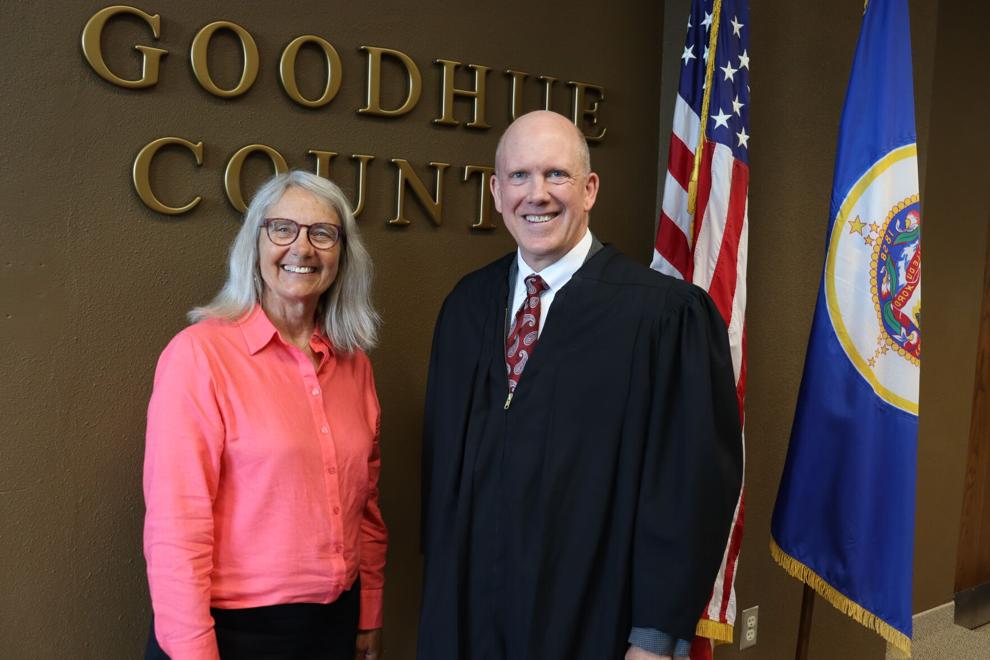 "[I] wanted to ensure [my] constituents [are] well served," Drotos said.
Betcher graduated from Red Wing High School and grew up on the east side of the city. Her father was a Red Wing City Hall employee and local business owner, according to a news release.
She has served six years on the Wacouta Township board and worked as a psychiatrist for 35 years.
Her husband, Stephen Betcher, is the longest serving Goodhue County attorney. They have two children and grandchildren.
Betcher was sworn in on Tuesday at noon by 1st Judicial District Judge Douglas Bayley.
"I'm honored to serve the citizens of my district and Goodhue County in the same manner that Commissioner Drotos has," she said in a news release.
Betcher will serve until 2025 when Drotos' term was originally set to finish. At that time she can choose to run for re-appointment.