The Minnesota Department of Agriculture has positively identified the invasive weed Palmer amaranth in Goodhue County.
The confirmation came Friday morning. The specific location was not announced.
While the plants appear to be isolated, this is a concern, according to MDA, because the invasive species can be higher toxic to livestock and will choke off cultivated crops.
How it was discovered
After a crop consultant reported a suspected plant to the MDA, staff conducted a site visit and found the weed in two corn fields managed by one farmer. The MDA on Friday said staff scouted fields surrounding the documented infestations and did not find any additional plants. 
It is unknown at this time how Palmer amaranth got into the two fields; however, the MDA is continuing to investigate potential sources.
An herbicide application stunted but did not kill the plants. A crew hand pulled weeds in the two fields to eliminate any chance of seed production. The MDA will continue to work with the farmer, crop consultants, University of Minnesota Extension, and the Goodhue County agricultural inspector to manage these infestations.
"This is a good example of the limits of herbicide on Palmer amaranth," said Denise Thiede, MDA's seed unit supervisor. "If plants are allowed to reach a certain size, an herbicide application may not control them. That's why we're counting on farmers and crop consultants to report suspected plants. They are our best line of defense against Palmer amaranth."
What Palmer amaranth is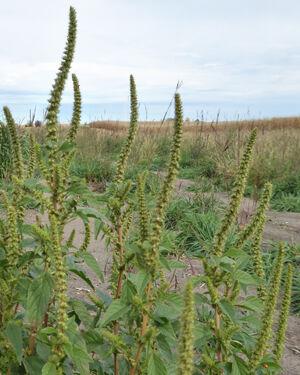 This is an annual plant native to the arid southwestern United States and northwestern Mexico.
It is a traditional food of Native Americans including the Navajo, Pima, Yuma and Mohave. Its lifecycle is adapted to desert conditions; it will germinate and grow to quickly produce abundant seed when water is available. 
Palmer amaranth was accidentally introduced to the southeastern U.S.
What is looks like
The leaves of some Palmer amaranth plants have a whitish V-shaped mark on them. Not all Palmer amaranth plants display this characteristic, and there are separate male and female plants, according to the MDA.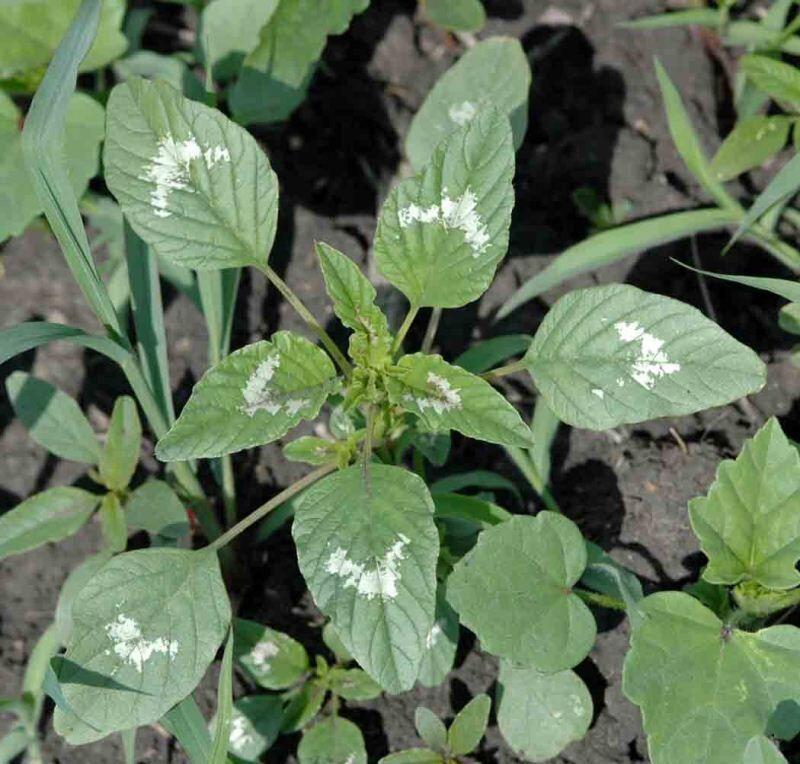 Palmer amaranth looks similar to the Midwest's native pigweeds such as tall waterhemp, redroot and smooth pigweeds. Distinguishing characteristics include:
Redroot and smooth pigweeds have fine hairs on their stems and leaves. Palmer amaranth and waterhemp do not have these hairs.

The petiole (stalk connecting a leaf to the stem) is longer than the length of the leaf. For tall waterhemp, the petiole will be only half the length of the leaf.

Seedhead spikes on female Palmer amaranth plants are much taller (up to 3 feet long) and more prickly than waterhemp or redroot and smooth pigweed spikes.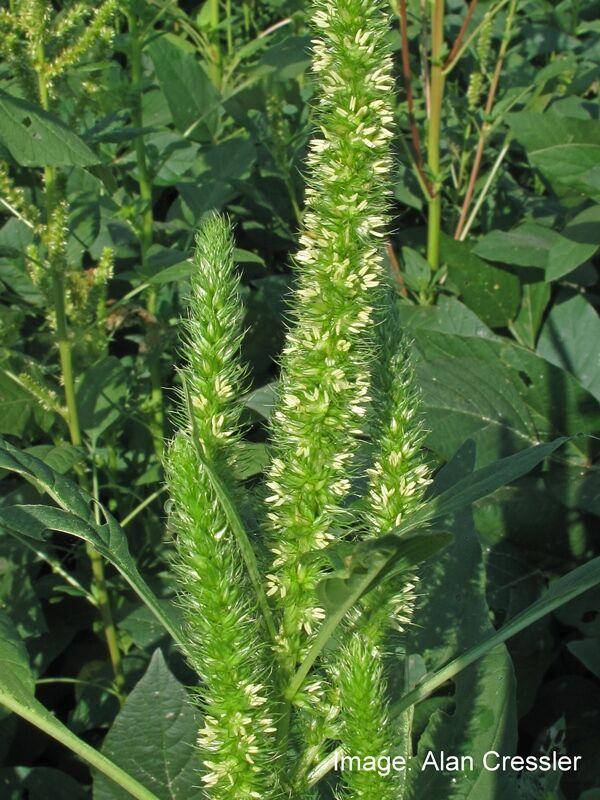 Why it is a problem
Palmer amaranth competes aggressively with crops. It has a fast growth rate of 2-3 inches per day and commonly reaches heights of 6-8 feet, greatly inhibiting crop growth. Yield losses have been up to 91% in corn and 79% in soybean.
Also, Palmer amaranth can be toxic to livestock if the concentration of nitrates in the leaves is high.
What people can do
Be proactive and prevent Palmer amaranth establishment, the MDA website explains. Farmers and others can familiarize themselves with Palmer amaranth identification and actively look for it in crop fields, borders, ditches and around dairies.
Mowing alone is not as effective as cultivation, as Palmer amaranth plants are usually not killed by mowing. They can regrow from cut stalks and set seed close to the ground. Mowing must therefore be done in conjunction with other methods of control like herbicide application, prescribed fire or propane weed torching to be effective.
Prevent all Palmer amaranth plants from producing seed if possible. Plants can be hand weeded and removed for disposal. If hand weeding is not feasible, contact your local University of Minnesota Extension agent, co-op, or certified landscape care expert for a specific herbicide recommendation.
Always clean vehicles and equipment after exiting infested areas. If seed was produced, deep tillage will reduce the quantity of seeds that can readily germinate.
A cereal rye cover crop can reduce Palmer amaranth germination and growth.