One of the stories of the summer has been the ongoing drought in Minnesota, which has carried across the Mississippi and St. Croix rivers into Wisconsin. 
According to the U.S. Drought Monitor on Thursday, Aug. 19, about 96.5% of Minnesota is in a drought. Here are five things to know about local conditions and water conservation. 
1. Minnesota in a drought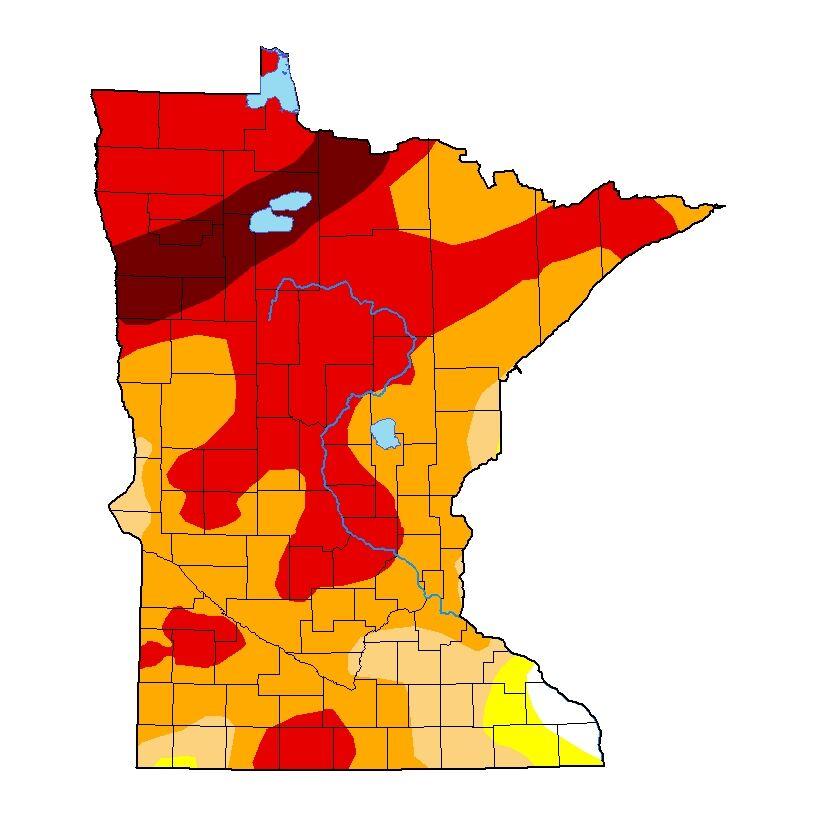 The majority of Goodhue County is in a moderate drought. A historic impact of moderate droughts is river and lake levels drop lower than normal and if it is winter, snow events are canceled. 
Northwestern counties including Polk, Clearwater, Beltrami, Koochiching and Lake of the Woods are experiencing much of the extreme and exceptional conditions. Impacts from these include: 
Corn is harvested early, emergency haying and grazing are authorized 

Wildfires are widespread 

Surface waters are near record lows
2. Wisconsin drought conditions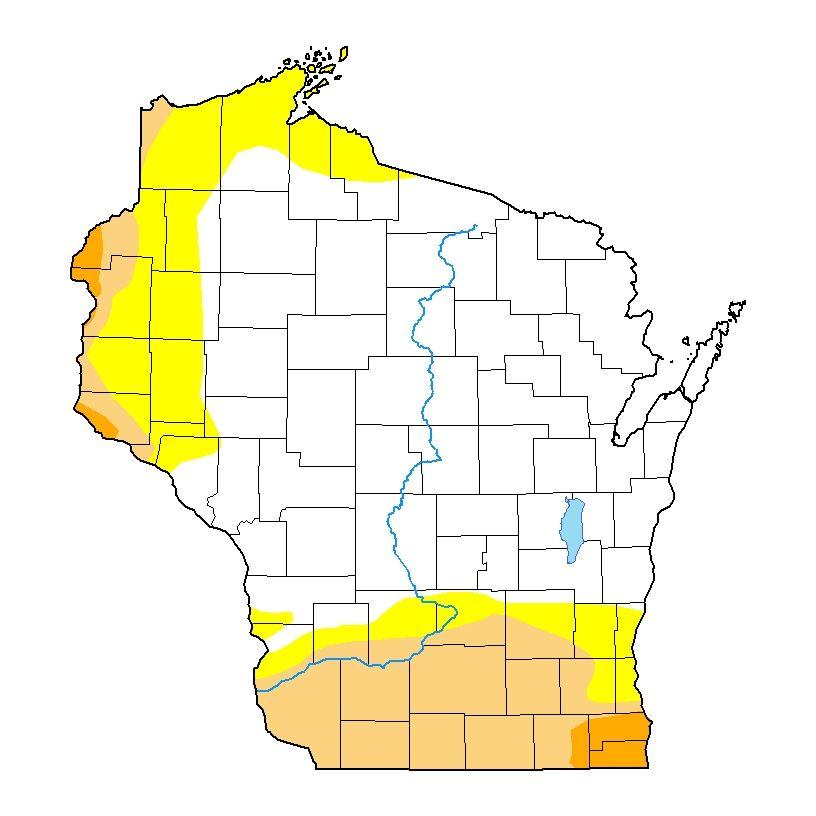 Minnesota is the easternmost state impacted by the extreme drought that is covering the majority of the western United States. However, Wisconsin and other central and eastern states have pockets of drought, specifically in Maine, which is about 44% moderate to severe drought. 
In Wisconsin, St. Croix, Pierce and Pepin counties range from no drought conditions — specifically in eastern St. Croix County and the northeastern corner of Pierce County — to severe drought conditions — mainly along the western border of the counties. 
One of the many impacts of moderate droughts is that less hay is produced than in a normal year, which makes available hay more expensive. This in turn results in individuals selling horses because they can no longer afford to feed them. 
3. Wildfire risk
In extreme and exceptional drought conditions the chance for wildfires is high. 
A fire broke out in Superior National Forest and was first reported at 3 p.m. Sunday, Aug. 15. The fire was reported to be a couple hundred acres and moving quickly. At the time of reporting crews are still working to contain the fire. 
Due to drought conditions fire danger is high throughout Minnesota and portions of Wisconsin. Before burning anything make sure to check the Minnesota or Wisconsin Department of Resources for information about burning permits and burning restrictions. 
4. Conserving water at home 
The Water Education Foundation lists many of the most common recommendations for conserving water in the home, including: 
Use a broom instead of a hose to clear sidewalks and driveways.

Use a hose with an on/off nozzle or use buckets of rinse water when cleaning a car.

Water lawns in the mornings or evenings when water will not evaporate as quickly as during the afternoon. Also make sure that water lands on vegetation and not on streets or sidewalks. If possible, use rainwater.

If you need to run water before it becomes hot, store the cool running water in a bottle for use in rinsing dishes, washing hands, preparing food, etc. 

When washing dishes by hand, use a sink full of rinse water rather than letting the water run.

Fix leaks. 

Install a low-flow showerhead.

Turn off the water when it is not in use. Don't leave it running when brushing teeth. Turn off the water between soaps and rinses when washing hands.

Run the dishwasher or washing machine only with a full load.

Keep a bottle of cold drinking water in the refrigerator instead of running water until it becomes cool.

Take showers instead of baths and keep showers under five minutes. 
5. National and global water consumption 
Reducing personal water usage is important. According to the U.S. Geological Survey, the public water supply accounts for about 12% of the country's water usage. It is also important to learn about how the other 88% of water is used in the country and where water consumption can be reduced. 
The main categories of water consumption are: 
Thermoelectric (41%): The U.S. Environmental Protection Agency clarifies that "thermoelectric" means "Water withdrawal for thermoelectric power production represents the total amount of water removed from the resource, while thermoelectric water consumption refers to the amount of water removed, but not returned to the source waterbody. The amount of water withdrawn from U.S. waterbodies for power generation is second only to that withdrawn for irrigated agriculture. It was estimated in 2005 that about 25 gallons is withdrawn for each kilowatt-hour of electricity produced." 

Irrigation (37%): Used in agriculture. 

Self-supplied domestic/livestock/aquaculture/mining (5%)

Industrial (5%): The USGS explains that water withdrawals in this sector "are driven by many factors. Historically, steel production developed in areas with actress to large amounts of water, good transportation and ore and coal deposits. Lake County, Ind., on Lake Michigan, accounts for 8% of the U.S. industrial water withdrawals, largely for steel production." 
U.S. citizens use more water than most individuals across the globe. According to the CDC, an average person in the U.S. uses 156 gallons of water every day. Meanwhile in France, an average person will use 77 gallons a day. In India, it drops to 38 gallons of water per person a day. 
What this means is that it is possible to reduce water consumption in day to day life.