While Minnesota and Wisconsin both have thousands of lakes, most residents of the two states can never spend too much time on, in or by water. Here are three homes—a condo, townhouse and house—that offer views of Lake Pepin. 
Lake City condo 
Bedrooms: one
Bathrooms: one
Square feet: 890
Year built: 2006
Asking price: $219,900
This home is perfect for those who want to live on the lake without the responsibility of yard work and maintenance. The condo has an open floor plan with maple finishes, a den, stackable laundry, a jacuzzi tub and of course, beautiful views of the lake. Shared amenities include a rooftop terrace, a community room and a gym. 
Lake City, Minn. condo on Lake Pepin for sale
Lake City townhouse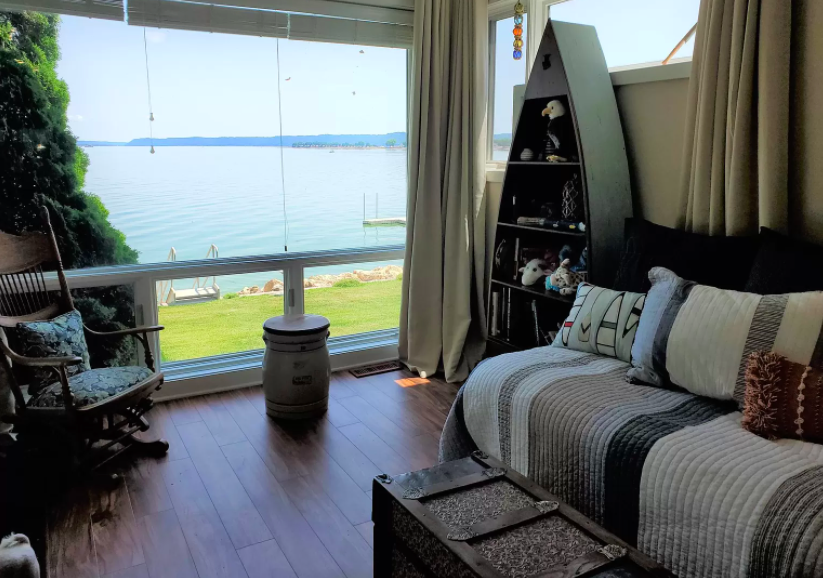 Bedrooms: three
Bathrooms: three
Square feet: 2,848
Year built: 1996
Acres: 0.09
Asking price: $799,500
It's hard to find a property closer to Lake Pepin than this one. The home feels private as shrubbery and other plants acts as a natural barrier between properties and many of the windows in the townhouse face the beach. The interior of the townhouse feels grand with custom woodwork, a stately staircase, a four season porch, a gourmet kitchen and vaulted ceilings. 
Lake City, Minn. townhouse on Lake Pepin for sale
 Pepin house
Bedrooms: three
Bathrooms: three
Square feet: 3,130
Year built: 2014
Acreage: 5.45
Asking price: $699,900
Custom built, this house can be used in numerous ways: a single-family home, a home with a mother-in-law home, a studio, etc. The property includes over 100 healthy hardwood trees and a lovely gazebo. There is plenty of space to get outside and enjoy views of the lake.