When Kim Catron – Ellsworth teacher, mom of two and published author –was a little girl, she loved reading.
"I would pretend to be sick so I could stay home from school and finish a book," Catron said. "I would read by the light of my electric blanket dial after I had to shut my bedroom light off."
As she got older, Catron began writing her own stories based on her favorite books and author styles.
"I loved falling into another world when I opened a book," Catron said. "With writing, I get to create that world."
In high school, Catron took a creative writing class, solidifying her desire to write professionally.
"It was a pipe dream for a long time . . . I wrote my first novel, that won't ever see the light of day, stealing a few hours here and there to see if I could actually do it."
After earning a master's degree in creative writing, Catron began constructing a tale that would later become her first published work, "Threshing of Straw."
Catron admitted that it was hard to find the time to write and was grateful for any spare minutes she had to be creative.
"Threshing of Straw" was released Nov. 24, and Catron was overjoyed with the positive responses she received.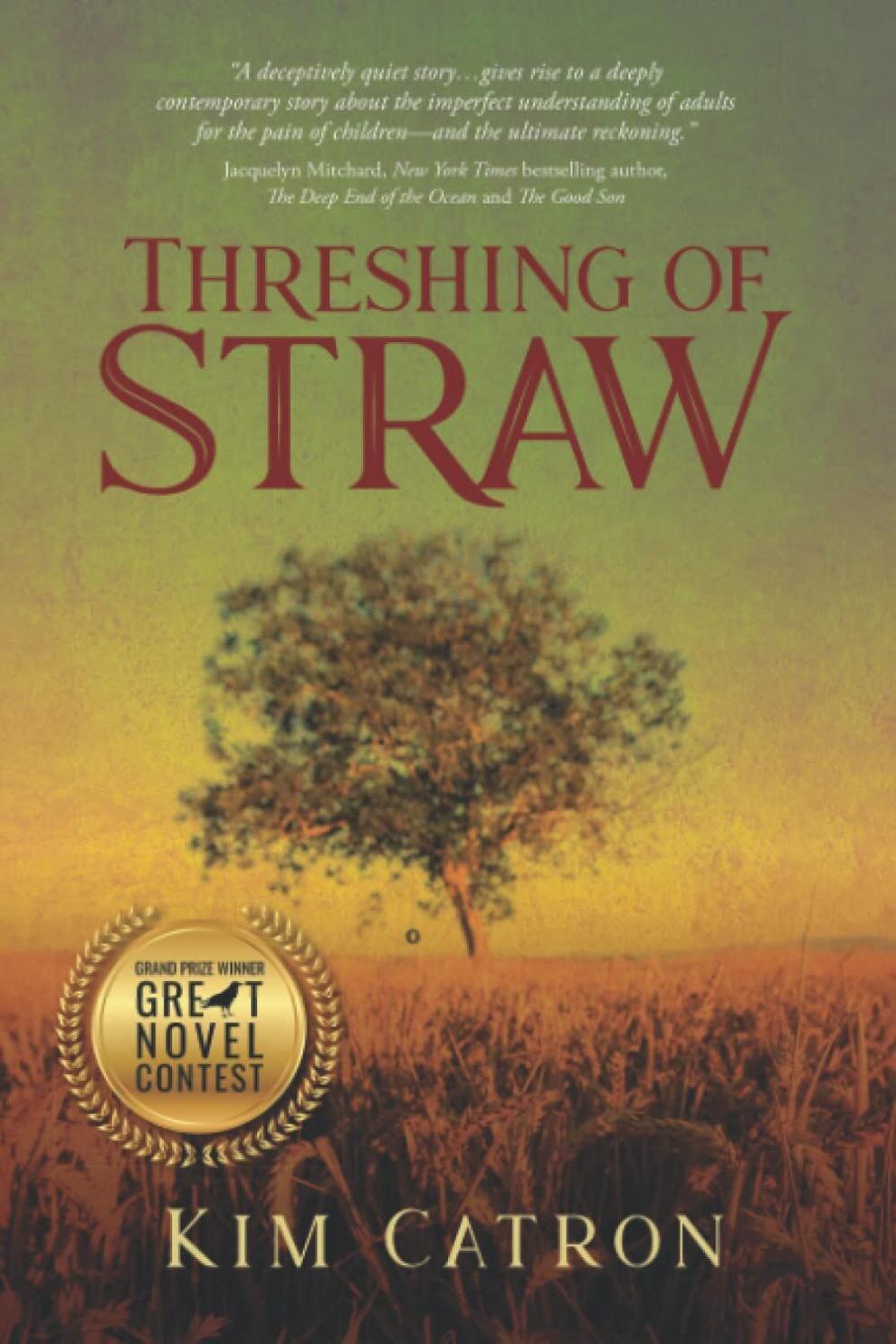 Her story won the Ohio Writers Association's Great Novel Contest and has five stars on Amazon.
The Republican Eagle spoke with Catron to discuss the book's synopsis, inspiration and more.
What is the synopsis of your book? 
Georgia. Thanksgiving week. 1962.
Macey May Johnson knows something isn't right when her Mama puts her alone on a bus to her Grandma's farm with strict instructions to wait to be picked up at the station. 
She's only nine and never been allowed to travel by herself before, but her Daddy's gone, and the bills can't be paid.
And Macey May knows her family keeps secrets. She can feel it in her bones. Her Grandma keeps secrets from her Mama. Her Mama keeps secrets from her. Her Daddy, well, he keeps them even from himself. And now Macey May has one of her own. A terrible one. But which secrets are meant to be kept, and which ones are meant to be told?
Who are the characters and what are they like? 
The book is written in alternating chapters among four characters. Macey May Johnson is a nine-year-old African American girl and is written in first person. Her mother, Rose Johnson, is written in third person as is Macey May's grandmother, Cora Lee Jenkins (Rose's mom). Macey May's father, Curtis, is written in first person.
Did you base the characters off of anyone you know?
My friend back in Massachusetts has the last name of Johnson. She was fostering a baby named Macey, and I thought the name Macey Johnson sounded like a good name for a character. I added in the May and fell in love with the name.
Is the book based on personal experience?
Considering I am not African-American nor from the south, the publisher thought it would be prudent to discuss it.  Almost a decade ago a character came into my mind – a little 9-year-old African-American girl from Georgia – Macey May Johnson. She refused to leave, so I sat down at my computer and wrote the first chapter of "Threshing of Straw," and then unsure as to where the story was headed, I put it away and left it there … for years.
Macey May was never far from my thoughts though. She played in the recesses, asserting herself and asking me when I was going to finish her story. It was a few years later that the rest of the novel came to me. The characters. The lives I felt I needed to write, the relationships I wanted to explore.
I am aware of the position this novel places me. I am not African-American, nor am I from the South. I am a New Englander transplanted as of late to the Midwest. Some will argue that I have no right to pen a story from the point of view of a skin that does not match mine or from a place where I have no roots. Some will argue that the job of a writer is to step into spaces outside our own and see through other lenses.
This story is about a family, the secrets they keep from each other, and the way they reconcile their past in order to live in the present and have a future. If readers come away connecting with the characters' brokenness and hope, then I have done what I set out to do. If readers find themselves propelled into the larger discussion regarding cultural appropriation in literature, then I have done much more than I thought possible.
Where did the story's inspiration come from? 
I do a lot of writing as I walk. I spend a lot of time in New Hampshire every summer on Lake Swanzey. It was during my many daily walks around the lake that the rest of the book fell into place in my mind. 
I write pretty much anywhere. Some of this was written in the Ellsworth library and McDonald's as I waited for my kids to finish drama and musical practice. Some was written in Red Wing's McDonald's as I waited for my daughter to finish dance classes at Shoreline. 
I do have a desk at my house. It's stuck in the galley pantry off of the kitchen so if I'm in there, no one can get anything out of the cupboards without me moving. 
When we lived in Massachusetts before moving to Wisconsin, I jokingly told my husband one year that for Christmas I wanted a writing office in the basement. He came through. Christmas morning I woke up to find a standing bifold door, blocking off a 4 by 4 section in the corner of the basement with a desk, bookshelf and dry erase and cork board on the wall. I miss that little space. It really was closed off from everything. However, I can easily write with noise around and enjoy working in coffee shops and libraries.
Did you draw inspiration from other works of literature?
I am a Charles Dickens fan. I actually collect antique Dickens' books and have over 100 of them. One of my mentors in my MFA program actually had to tell me to stop writing like I was living in the late 1800s.
I love Dickens, Austen, Bronte. My daughter's middle name is Eyre from "Jane Eyre," and my son's middle name is Fezziwig (yes, it made us laugh, too, when we decided to do it) from "A Christmas Carol." 
So, you can say, I'm drawn to the classics. However, historical fiction, mainstream women's fiction … I love it all. I'm drawn to titles. If a title intrigues me, I'll definitely turn the book over to read the back. If a book's setting is anywhere in England, Ireland or Scotland, I will read it hands down.