After five start-up pitches were given at the E1 Ignite Cup, Babbl was declared the winner by judges. 
Red Wing Ignite hosts the annual event. The non-profit defines the E1 Ignite Cup as "a regional pitch competition created to elevate entrepreneurs and emerging startups as a feeder to the statewide MN Cup competition. Finalists present their idea/business to a panel of judges made up of entrepreneurs, investors, business/regional leaders and a MN Cup representative."
The winner of the cup receives a $1,500 cash prize from the Southern Minnesota Initiative Foundation, an automatic semi-finalist seat in the MN Cup and a 30-minute mentoring session from each of the four judges. 
Babbl
Self-defined as a "financial news sentiment platform," Babbl's focus is to collect news and data about the stock market and make it easy for both expert traders and those new to the world of investing to follow stock patterns. 
The company's website explains, "Our sentiment analysis algorithm takes the bias out of financial news by algorithmically detecting insights from thousands of finance articles each day and providing investors with a complete view across Bullish and Bearish opinions."
The start-up was created by Ramsey Shaffer and Sam Cartford, University of Minnesota alumni. Shaffer presented Babbl at the E1 Cup. 
The problem that the company is trying to solve is that "there's not enough time in the day to read all of the stock market news that is available to us today, there's more news than ever before," said Shaffer. 
Shaffer added that reading the news is a key component of every trader's job. 
He added, "I know from personal experience as an investor that when it comes down to it, 90% of successful investing is reading."
The goal of Babbl is to do the reading for investors. Its algorithm will sift through news articles related to the stock market. The algorithm will then "distill the trends and overall top insights about each and every stock stock in the market, and synthesize the overall sentiment of the market," Shaffer said. 
Babbl also won the "People's Choice Award." Those who attended the E1 Ignite Cup were able to vote for their favorite start-up. 
Start-ups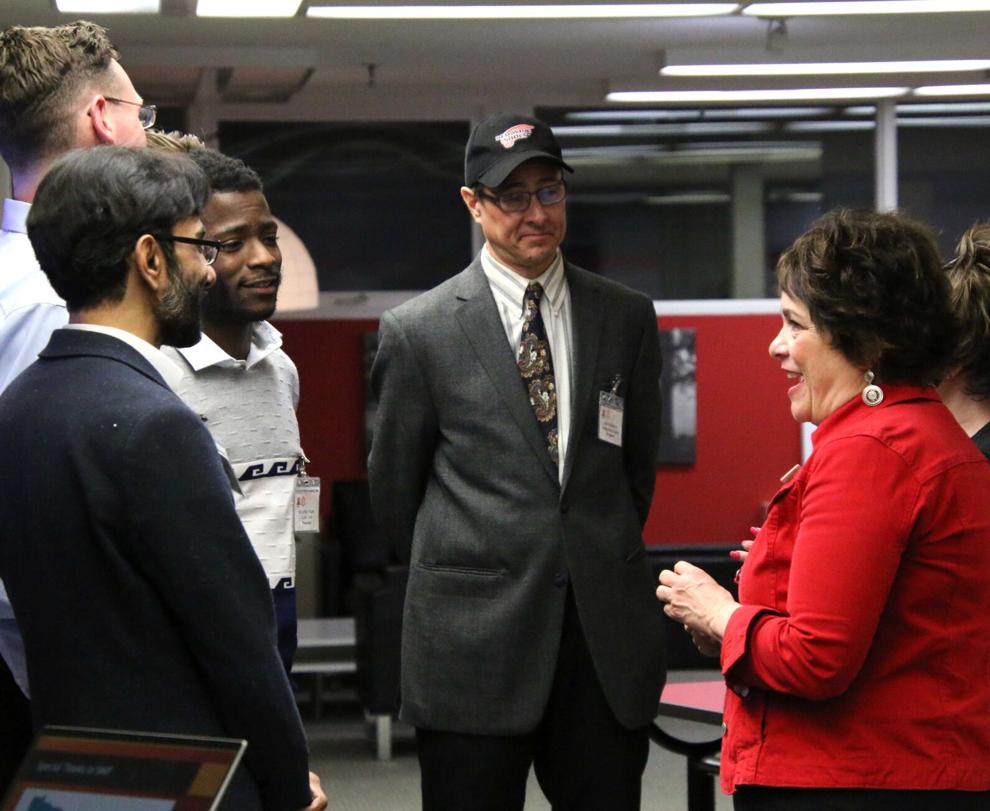 The other four start-ups presented were: 
Caut!on tech: The start-up says, "Our mission is to give our customers the most up-to-date information on hazards in their area, provide a platform for communicating with individuals about such hazards, and (install) more comfort to our users by letting them know there is someone watching out for them."
Paragon Body Cooling: The company's website explains that its "body temperature control technology provides effective body cooling at a comfortable temperature for an extended duration." The focus of Thursday's pitch was a cooling hat insert made to keep the user cool but not cold for up to about an hour. The packs are reusable, they just need to be "charged" in a cooler or fridge. 
Pollinator Patch: The goal is to restore 1 million acres to be pollinator friendly, "one backyard at a time." The company would have a few steps. First, home or building owners would select a pollinator-friendly seed package designated for their climate. Each package would include enough seeds for about 1,000 square feet of yard. Then, participants could install a camera (similar to a Ring doorbell) that would monitor the pollinator garden, connect with an algorithm and identify the various pollinators spotted in the yard. That information could be shared with Pollinator Patch or kept private. 
SlicUp: The focus of this start-up is rural transportation. An app would be created to help rural residents find rides with other residents for a low price. This is similar to Uber or Lyft, but instead of ordering a car, an individual would ride with a driver already going to their destination. The platform would connect drivers with businesses to move packages and materials. 
What's next
The four start-ups that did not win the E1 Ignite Cup can apply to the MN Cup. Their applications will be reviewed by a group of judges and may move on to the semifinal round. 
With the E1 Ignite Cup win, Babbl automatically becomes one of the 90 companies that will compete in the MN Cup semifinals. The semifinal round includes: 
One to two experienced mentors to offer advice and feedback 

An opportunity for participants to share their business concept with a public audience

Exposure 

Access to 15 or more free workshops and educational sessions 

Detailed feedback from division judges 
Finalists (the top 27 companies) can receive up to $25,000 in prize money. The grand prize winner will receive $50,000.